PROJECT SEMICOLON (THE SEMICOLON PROJECT) A semicolon is used when an author could've chosen to end their sentence, but chose not to. The author is you and the sentence is your life. On April 16, 2013, thousands of people joined us to raise public awareness against depression, addiction, self-injury and suicide.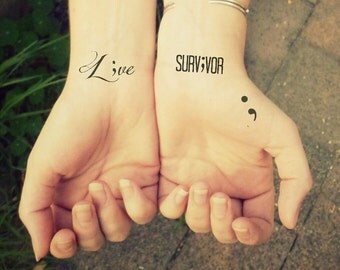 What does a tattoo of a semicolon mean?The Moving
Meaning
Behind the Viral
Semicolon Tattoo
.
Amy Bleuel battled addiction, mental illness, self-harm, and suicidal thoughts after her father took his own life when she was only 18 years old. Bleuel wanted to honor her father's memory, and got a
tattoo
of a
semicolon
.