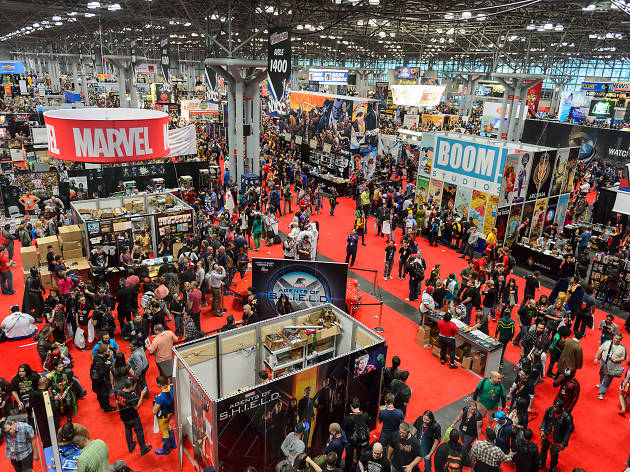 The New York Comic Con 2016 guide
New York Comic Con is October 6 through October 9, 2016.
New York Comic Con 2016 is at the Jacob K. Javits Convention Center on Eleventh Ave in Hell's Kitchen. Take the A, C, E, 1, 2 or 3 subway lines to 34th St–Penn Station.
Bring snacks and water
Look, there is food available at the Javits Center, but it's going to cost you — both in precious dollars and precious time. And good luck finding a place to actually sit down to eat. I recommend granola bars. They give you a boost of energy and they're easy to carry. And don't forget to hydrate. Bring a bottle and stay refreshed.
Bring hand sanitizer
Con crud is a real thing. With hordes of people comes hordes of bacteria and other things that can get you sick. There's only so much you can do, but hand sanitizer will go a long way to keeping you healthy.
Take cash
Pack lightly
Make a plan
There are so many things to do at New York Comic Con — panels, signings, screenings, shopping, gaming, people-watching. There's enough stuff to do for four weeks, all of it packed into four days, so if you don't have at least a basic plan, you're going to get lost. Right now, you can go online to NewYorkComicCon.com, where the rundown of events and table and booth locations are up. My advice: Write it down or print it out so you don't use up all your phone's battery life. Which leads to..
Wear comfortable shoes
This seems obvious, but it bears repeating. You're going to be getting some massive numbers on your pedometer, and the last thing you want is for your feet to give out.
Bring a phone charger
Either bring your cord and search around for a free wall socket or bring a portable charger. Taking photos and videos and making sure everyone on social media is full aware of your con-going adventure will sap your power faster than you'd expect.
You will experience the joys of waiting on lines at New York Comic Con, from the one to get in to lines for panels, signings, food, bathrooms and just walking down the aisles. Take deep breaths, find a Zen place and just get used to the slow pace.
Know the rules
There are things you can and can't take into the Javits Center, and this is especially important for cosplayers. Not all fake weapons are acceptable; rather than chance it, familiarize yourself with the rules on the website.
Be a good person
Cosplay is not consent. Just because someone is dressed up in a costume, doesn't give you the right to touch them or be anything less than a gentleman or woman. If you want to take a photograph, ask
Take a shower
There's no excuse for having bad hygiene at Comic Con, or really, anywhere. Take a shower. Brush your teeth. Put on deodorant. Wear clean clothing. It seems silly to have to say this, but unfortunately, it needs to be repeated every year.
New York Comic Con panels to catch: From Skybound Comics to marvel
There is a ton of programming at New York Comic Con. We dug through the big list and picked out some cool panels to check out.
THURSDAY
Skybound Comics Preview with Robert Kirkman
"The Walking Dead" creator is on a bunch of panels, starting with this one. He'll be talking about some of the new content coming from his Image Comics imprint. (12:30-1 p.m., NYCC Live Stage)
'Tetris: The Game that Hypnotized the World'
Learn the history of the game with Box Brown ("Tetris: The Games People Play"), Dan Ackerman ("The Tetris Effect") and Eric Zimmerman ("Rules of Play"). (2:45-3:45 p.m., Room 1A18)
FRIDAY
'BBC America Takeover Featuring Doctor Who, Class and Dirk Gently's Holistic Detective Agency'
Meet many of the cast members and crew of "Doctor Who," the "Who" spinoff "Class" and "Dirk Gently's." (10:30 a.m.-1 p.m., The Theater at MSG)
'Marvel: 50 Years of Black Panther'
With a new comic and a movie in 2018, Black Panther is back in the spotlight with a discussion featuring Ta-Nehisi Coates, Brian Stelfreeze and Christopher Priest. (11 a.m.-noon, Room 1A06)
'DC's Young Animal'
Get the lowdown on DC Comics' hip new imprint curated by My Chemical Romance frontman Gerard Way, who is also a pretty amazing writer, with two new titles: "Doom Patrol" and "Cave Carson Has A Cybernetic Eye."(1:30-2:30 p.m., Room 1A06)
SATURDAY
'Valiant x Super Power Beat Down: Top-Secret Project'
The acclaimed New York City comic publisher showcases the new live-action feature series from YouTube stars Super Power Beat Down. (2:45-3:45 p.m., Room 1A21)
'Archie Comics Forever: 75 Years of Storytelling'
The world's most famous teenager turns 75, and Jon Goldwater, Victor Gorelick, Mike Pellerito and Alex Segura are here to let you know what Archie and the gang are up to, including a new series on CW, "Riverdale," and new takes on the classic comic titles. (3-4 p.m., Room 1A05)
SUNDAY
'Vulture Presents Saturday Night Live, the Day After — SNL Head Writers in Conversation with Jesse David Fox'
"Saturday Night Live" writers Bryan Tucker, Sarah Schneider and Chris Kelly will sit down with Vulture senior editor Jesse David Fox to dish about the legendary sketch show. (2:30-3:30 p.m., Room 1A24)
Tales From the Tardis with Matt Smith, Alex Kingston and Jenna Coleman
Doctor Who devotees will rapture at this epic reunion panel, which brings together 13th Doctor Matt Smith (the best of his generation) and his two greatest companions, powerhouse Alex Kingston (River Song) and soufflé-queen Jenna Coleman (Clara Oswald). They'll discuss the time traveling life and everything that comes after.
October 6 (2–3pm)
World Premiere & Adam West, Too: Batman: Return of the Caped Crusaders
After a year of perversely bleak Batman movies, the cheerful actors of the '60s Batman series—including Adam West, Burt Ward and the divine Julie Newmar—reunite for a new animated romp in Batman: Return of the Caped Crusaders. Head to this world premiere screening, which features a panel with West and the film's creators.
October 6 (5:30–7:30pm)
TruTv's Jon Glaser Loves Gear
The lovably self-deprecating Jon Glaser (Girls, Parks & Recreation) previews his bizarre new comedy/gear TV experiment and discusses his most ostensibly masculine passions.
October 6 (5:30–6:30pm)
Race and Gender: A Conversation with Ta-Nehisi Coates and Steve Orlando
Between the World and Me author Coates has kicked off a new era of provocative, political Black Panthercomics, while Orlando's Midnighter shatters all boundaries for LGBT superheroes. The two subversive writers discuss their strategies and inspirations for shaking up contemporary superhero fiction.
October 6 (8–9pm)
Inside the Upside Down with Milly Bobby Brown and David Harbour
Try not to burst into tears when you behold Stranger Things' Eleven and Hopper outside of the town of Hawkins. The two breakout stars share secrets from the making of the Netflix summer spectacle, and give hints of what's to come.
October 7 (11am–noon)
Wonder Woman at 75
Before the greatest superhero of all time enjoys her big-screen debut next summer, some of the writers, artists and editors who have shaped Wonder Woman gather to discuss the character's legacy. Join Greg Rucka, Jill Thompson, Marc Andreyko, Jose Luis Garcia-Lopez and Yanick Paquette as they speak about why Wonder Woman is more relevant now than ever.
October 7 (5:15–6:15pm)
Hip Hop & Comics: Cultures Combining
Depth of Field editor Patrick A. Reed welcomes comic book, graffiti and hip-hop artists to discuss the rich history of exchange among superhero stories, street art, fashion and music.
October 7 (6:45–7:45pm)
Season 3 Exclusive: Netflix Presents Black Mirror
The wait is over: fans of this century's Twilight Zonecan preview the long-awaited third season of Black Mirror with a screening of a brand-new episode, Play Test. Prepare to have your mind blown.
October 8 (12:30–1:30pm)
Brat Pack America
Brat Pack America: A Love Letter to '80s Teen Movies author Kevin Smokler speaks with two of the most iconic directors of the age about the influence of their movies: Amy Heckerling (Fast Times at Ridgemont Highand Clueless) and Martha Coolidge (Real Genius andValley Girl).
October 8 (6:45–7:45pm)