The Book of Mormon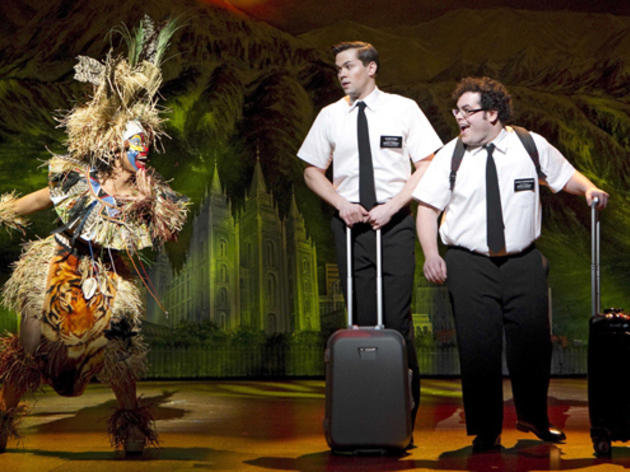 The Book of Mormon follows a mismatched pair of proselytizers, Elders Price (Rannells) and Cunningham (Gad). The former is the clean-cut ideal of a Mormon doorbell-pusher: white-bread, well-groomed and safely asexual. Cunningham, however, is a fat, slovenly manchild who tends to lie. Despite Price's callow wish to be assigned missionary work in Orlando, Florida, the two are sent to save souls in war-torn, AIDS-ravaged, poverty-stricken Uganda. The dawning horror on Rannells's face and the spastic, gleeful incomprehension on Gad's upon hearing the news is priceless. The evolving friendship between their two characters lays the emotional foundation for the show, and gives even the cruelest jokes about disease, racism and homophobic self-loathing a sweetish, innocent finish. Eugene O'Neill Theatre , Midtown West Until Saturday December 31 2016
The Encounter
A combination of radio drama and art-house podcast, Simon McBurney's ingeniously designed solo is piped to audience members all individually wearing headphones. A sort of dislocating jungle adventure, the story is based on a photojournalist actual time spent with Brazilian tribespeople. It's a meeting of ear, mind and soul you will never forgetJohn Golden Theatre , Midtown West Until Sunday January 8 2017
Fiddler on the Roof
Revelatory direction, eloquent visuals and that sublime klezmer-inflected score by Sheldon Harnick and Jerry Bock—what more do you need? A great Tevye, and Danny Burstein is nothing short of a miracle, finding the modern mensch as well as the hard-nosed, belief-bound peasant in Bartlett Sher's magnificent, life-affirming revival.Broadway Theatre , Midtown West Until Saturday December 31 2016
Hamilton
­Hamilton is a (mostly) rapped-through biomusical about an orphan immigrant from the Caribbean who came to New York, served as secretary to General Washington, fought against the redcoats, authored most of the Federalist Papers defending the Constitution, founded the Treasury and the New York Post and even made time for an extramarital affair that he damage-controlled in a scandal-stanching pamphlet. All that industry and drama unfolds in the shadow of a forgone conclusion: Hamilton will die in an 1804 duel with Vice President Aaron Burr (Leslie Odom Jr.), a longtime rival and, in this Shakespearean reading, his tragic opposite. Whereas Hamilton is about seizing the moment and taking a stand ("I am not throwing away my shot" is his mantra), Burr is a passive, taciturn opportunist whom life passes by.
Miranda may be composer-lyricist and star, but the world he creates is vibrantly democratic. Hamilton is the center, but Burr is his equally weighted Judas and Javert—and more complexly drawn than either. (Odom brings the house down with the ultimate outsider's jazz romp, "The Room Where It Happens.") Phillipa Soo, playing the betrayed but finally forgiving wife, Eliza, has some of the show's most heartbreaking music and even (spoiler alert) emerges as protector and engine of her husband's legacy—subtly taking the spotlight as the shadow author of the work before us. As French ally Marquis de Lafayette in the first act and a foppish, trash-talking Thomas Jefferson in the second, Daveed Diggs blazes with raffish charisma. Jonathan Groff has inherited the role of King George from Brian d'Arcy James, and finds new levels of comic brilliance in his short but convulsively funny appearances, practically drooling with incipient looniness. And the lovely, pure-voiced Renée Elise Goldsberry's Angelica Schuyler will make you demand a spinoff musical all her own. Part of the genius of Miranda's writing is this polyphonic, block-party quality, where everyone gets their sayRichard Rodgers Theatre , Midtown West Until Saturday December 31 2016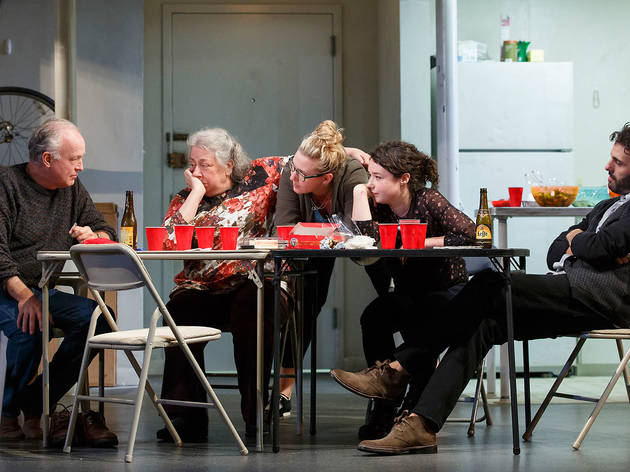 The Humans
Richard and Brigid (Sarah Steele), Erik's other daughter, have just moved into a cavernous ground-floor duplex apartment in Chinatown—a chilly, indifferent space rendered well in David Zinn's bi-level set—and the others have traveled up from Pennsylvania to spend the holiday with them. A nuanced group portrait of life in the shadow of disaster, The Humans unfurls in a single 95-minute scene, but it never feels static. As incarnated by a seamless ensemble cast that includes some of New York's finest stage actors, expertly conducted for the Roundabout by director Joe Mantello, the Blakes constantly move around, adjusting their defenses. The testy warmth of their interaction seems genuine—often amusingly, sometimes painfully—and is rooted in histories that Karam depicts with intimate sympathy. (New to the family, Richard takes the others in with gentle patience. He can afford to; he has a trust fund about to kick in.) Gerald Schoenfeld Theatre , Midtown West Until Saturday December 31 2016
Something Rotten!
This funny, splashy extravaganza offers anything-for-a-laugh gags wrapped in a solid structure, with a dash of sweet, emotional ballast. Rob McClure is delightfully desperate as an Elizabethan playwright trying to construct the world's first musical. 'Tis indeed Broadway funniest musical comedy in at least 400 years.—St. James Theatre , Midtown West Until Sunday January 1 2017
Beautiful—The Carole King Musical
McGrath's deft, wry book tracks its hero's tortured first marriage to lyricist-partner Gerry Goffin (Jake Epstein) and their friendly rivalry with another songwriting couple, Barry Mann and Cynthia Weil (Jarrod Spector, Anika Larsen), humanizing the principals in quick, confident brushstrokes. By the end, when King records her iconic feminist love anthem, "(You Make Me Feel Like) A Natural Woman," you realize how effectively this hooky, soulful songbook and Mueller's smartly wistful performance deliver emotional release. When the divine Mueller lets loose, you feel the earth move.Stephen Sondheim Theatre , Midtown West Until Saturday December 30 2017
The Color Purple
As an abused African-American woman who learns to value herself, the exceptional Cynthia Erivo gives a performance of magnetic directness and simplicity, supported by a mighty sisterhood of performers that includes Jennifer Hudson and Danielle Brooks.
Bernard B. Jacobs Theatre , Midtown West Until Monday January 9 2017
Jersey Boys
That the audience responds to the actors as though they were the Four Seasons themselves is testament to Jersey Boys' equanimity in its treatment of its lead characters, who include the affable Gaudio (Reichard) as well as the incorrigibly delinquent Tommy DeVito (Hoff) and the inscrutable Nick Massi (Spencer). As each of these men—clean-cut singers with rough-hewn pasts—tells his side of their history, it becomes clear that although Young may lead the pack, this is a ultimately a show for all Seasons. The lgendary thrills and trills of Four Seasons frontman Frankie Valli. As Young's bright falsetto rings through the air, the August Wilson Theatre becomes a rejuvenation room, transforming baby boomer women into screaming Valli girls in the throes of Young love.August Wilson Theatre , Midtown West Until Sunday January 15 2017
Kinky Boots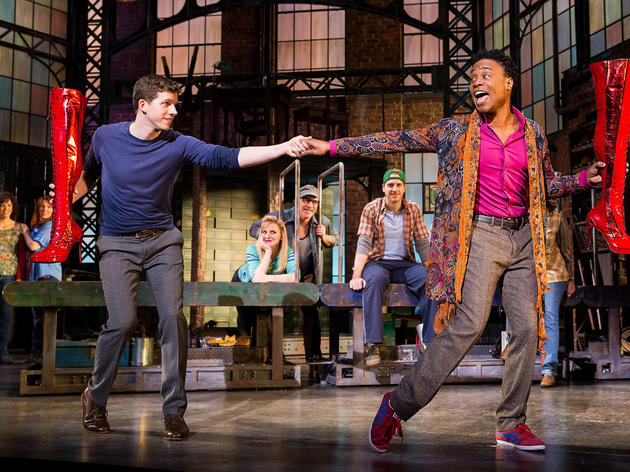 Harvey Fierstein and Cyndi Lauper's fizzy pop tuner tells of Charlie (the capable Sands) and his Northampton footwear factory, Price & Son—a family business in danger of closing down. Hope arrives in the unlikely form of Lola (Porter), a self-possessed drag queen with ideas for a niche product line: knee-high, skin-tight, stiletto-heeled sheaths of ostentatious color, strong enough for a man who's made up like a woman. (Gay style and consumer dollars to the rescue! The shoe must go on!) Directed with verve by Jerry Mitchell, Kinky Boots feels familiar at every step, down to its messages about individuality, community, pride and acceptance; it could have been cobbled together from parts of The Full Monty, Billy Elliot and Fierstein's La Cage aux Folles, and it culminates in a feel-good finale so similar to Hairspray's (which Mitchell choreographed) that it might as well be called "You Can't Stop the Boot."
Porter brings tough sass, wounded dignity and husky vocal authority to a part he has seemingly been training all his life to play; and as Charlie's lovelorn underling, the sweetly tart Annaleigh Ashford—she of the perfectly timed comic take—adds another stolen show to her rap sheet. The overall effect is nigh irresistible; if you've been low about this season's musicals, Kinky Bootsmay be just the thing to get you back on your feet.Al Hirschfeld Theatre , Hell's Kitchen Until Saturday December 31 2016