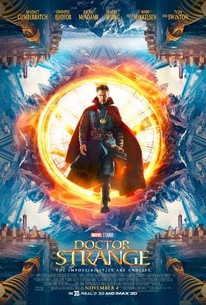 DOCTOR STRANGE
(2016)
A disgraced former surgeon named Stephen Strange (Benedict Cumberbatch) becomes a powerful sorcerer under the tutelage of a mystic known as the Ancient One (Tilda Swinton). Rachel McAdams, Mads Mikkelsen, and Chiwetel Ejiofor co-star in this entry in the Marvel Cinematic Universe. Directed by Scott Derrickson (Sinister).
CAST
B
enedict Cumberbatch

as Stephen Vincent Strange

Tilda Swinton

as The Ancient One
Rachel McAdams

as Christine Palmer

Chiwetel Ejiofor

as Baron Mordo
Mads Mikkelsen

as Kaecilius

Michael Stuhlbarg

as Nicodemus West
TROLLS
DreamWorks Animation's TROLLS is an irreverent comedy extravaganza with incredible music! From the genius creators of SHREK, TROLLS stars Anna Kendrick as Poppy, the optimistic leader of the Trolls, and her polar opposite, Branch, played by Justin Timberlake. Together, this unlikely pair of Trolls must embark on an adventure that takes them far beyond the only world they've ever known.

Justin Timberlake

as Branch
Zooey Deschanel

as Bridget

Christopher Mintz-Plasse

as King Gristle


Christine Baranski

as Chef

John Cleese

as King Gristles Sr.

Kunal Nayyar

as Guy Diamond

Jeffrey Tambor

as King Peppy

HACKSAW RIDGE
HACKSAW RIDGE is the extraordinary true story of Desmond Doss [Andrew Garfield] who, in Okinawa during the bloodiest battle of WWII, saved 75 men without firing or carrying a gun. He was the only American soldier in WWII to fight on the front lines without a weapon, as he believed that while the war was justified, killing was nevertheless wrong. As an army medic, he single-handedly evacuated the wounded from behind enemy lines, braved fire while tending to soldiers and was wounded by a grenade and hit by snipers. Doss was the first conscientious objector to ever earn the Congressional Medal of Honor.
CAST

Teresa Palmer

as Dorothy Schutte

Sam Worthington

as Capt. Glover

Vince Vaughn

as Sgt. Howell

Rachel Griffiths

as Bertha Doss

Nathaniel Buzolic

as Harold Doss
Richard Roxburgh

as Col. Stelzer
Firass Dirani

as Vito Rinnelli
Loving
Loving celebrates the real-life courage and commitment of an interracial couple, Richard and Mildred Loving (portrayed by Joel Edgerton and Ruth Negga), who married and then spent the next nine years fighting for the right to live as a family in their hometown. Their civil rights case, Loving v. Virginia, went all the way to the Supreme Court, which in 1967 reaffirmed the very foundation of the right to marry – and their love story has become an inspiration to couples ever since.
CAST

Ruth Negga

as Mildred Loving

Michael Shannon

as Grey Villet

Marton Csokas

as Sheriff Brooks

Nick Kroll

as Bernie Cohen
Jon Bass (II)

as Phil Hirschkop
Terri Abney

as Garnet Jeter
Alano Miller

as Raymond Green
THE EAGLE HUNTRESS
THE EAGLE HUNTRESS follows Aisholpan, a 13-year-old girl, as she trains to become the first female in twelve generations of her Kazakh family to become an eagle hunter, and rises to the pinnacle of a tradition that has been handed down from father to son for centuries. Set against the breath-taking expanse of the Mongolian steppe, THE EAGLE HUNTRESS features some of the most awe-inspiring cinematography ever captured in a documentary, giving this intimate tale of a young girl's quest the dramatic force of an epic narrative film. While there are many old Kazakh eagle hunters who vehemently reject the idea of any female taking part in their ancient tradition, Aisholpan's father Nurgaiv believes that a girl can do anything a boy can, as long as she's determined. The story begins after Aisholpan has been training with her father's eagle for many months. As every eagle can only have one master, the time has come for Aisholpan to capture an eagle of her own. Clambering down a sheer rock cliff with a rope, Aisholpan retrieves a fledgling eagle from its nest as its mother circles overhead. Her eagle will live, train, and hunt with her, until she releases it into the wild years later, so the cycle of life can continue. After months of training her eagle with her father, Aisholpan is ready to test her abilities. She enters a renowned competition, the Golden Eagle Festival, and faces off against 70 of the greatest Kazakh eagle hunters in Mongolia. The most arduous challenge is yet to come, as the rite-of-passage for every young eagle hunter is to take part in a hunt. Aisholpan must ride with her father deep into the frigid mountains and endure 40 below zero temperatures and perilous landscapes to prove she is a true eagle huntress. THE EAGLE HUNTRESS is executive produced and narrated by STAR WARS's Daisy Ridley. Like Ridley's character "Rey," Aisholpan never doubts her ability to be as strong or brave as any boy. She recognizes no obstacles and refuses to have her ambition denied. While she practices an ancient art, Aisholpan's story is a modern and inspiring one because she represents a world where a young girl's dreams-no matter how challenging-can come true. Directed by Otto Bell, THE EAGLE HUNTRESS is narrated by Daisy Ridley, executive produced by Ridley and Morgan Spurlock, and produced by Stacy Reiss, Sharon Chang and Otto Bell. The director of photography is Simon Niblett, the editor is Pierre Takal and the film features a stirring end credits song, "Angel by the Wings," by Sia.