Soul Eater
Maka & Soul Eater, Black Star & Tsubaki, and Death the Kid with Patty and Liz Thompson are the characters Soul Eater revolves around. Besides taking the time to gather souls, these students of Shibusen defend Death City from some of the most powerful of creatures while still attending school and trying to become stronger.

Higurashi no Naku Koro ni
After moving into the quiet town of Hinamizawa, Maebara Keiichi spends his days blissfully in school often playing games with his local friends. However, appearances can be deceiving. One fateful day, Keiichi stumbles upon news of a murder that had occurred in Hinamizawa. From this point on, horrific events unfold in front of Keiichi, as he soon learns his close friends may not be all that they seem. Based on the amateur mystery game by 07th Expansion, the story is told in a series of different scenarios.
Bleach
Ichigo is not your everyday high school student. He has from as far he can remember always had the ability to see ghosts and spirits. A fateful day arrives as Ichigo encounters the shinigami Kuchiki Rukia, who saves him and his family from a Hollow at the cost of injuring herself. During this encounter, with Rukia unable to defeat the hollow she transfers her shinigami powers into Ichigo. In the aftermath, unable to continue with her job, Rukia allows Ichigo to take on the role of a shinigami in her place as they together defeat the Hollows plaguing Ichigo's town.
Highschool of the dead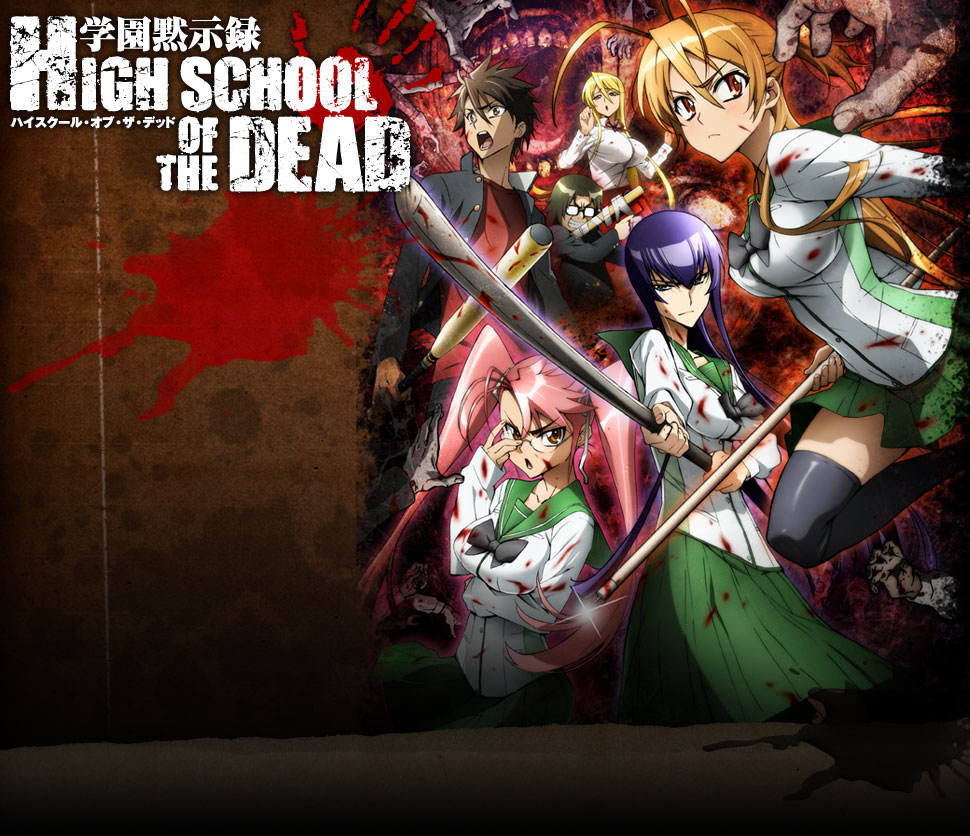 In Japan, several high school students and a school nurse have banded together to escape Fujimi High School shortly after it was attacked by zombies. The group now attempts to figure who or what was responsible for this plague, and in the meantime, attempt to survive the present apocalypse.The story is initially narrated through the eyes of Takashi Komuro, one of the students who had survived in the initial outbreak.
HunterxHunter
Set in a world where Hunters exist to perform all manner of dangerous tasks like capturing criminals and bravely searching for lost treasures in uncharted territories. Twelve-year-old Gon Freecss is determined to become the best Hunter possible in hopes of finding his father, who was a Hunter himself and had long ago abandoned his young son. However, Gon soon realizes the path to achieving his goals is far more challenging than he could have ever imagined.
Future Diary
Yuki, a loner who's not very good with people. He prefers to write a diary on his cell phone and talk to his imaginary friend, Deus Ex Machina. However, Yuki soon learns that Deus is more than a figment of his imagination when he makes Yuki participate in a battle royale with eleven others. The contestants are given special diaries that can predict the future, each diary possessing unique features that give it both advantages and disadvantages. Within the next 90 days, the contestants must try to survive until there is only one left standing. The winner will become the new Deus.
Akame ga Kill!
In a fantasy world, fighter Tatsumi sets out for the Capitol to earn money for his starving village, and finds a world of unimaginable corruption, all spreading from the depraved Prime Minister who controls the child Emperor's ear. After nearly becoming a victim of this corruption himself, Tatsumi is recruited by Night Raid, a group of assassins dedicated to eliminating the corruption plaguing the Capitol by mercilessly killing those responsible.
Death Note


Yagami Light, on the way home from class, Light stumbles upon a dark notebook with "Death Note" written on the front. Intrigued by its appearance, Light reads the first few sentences, only to find out that it states that anyone whose name is written inside will die. Discarding it as a joke, Light continues his daily activities. Soon after though, his human curiosity takes the better of him and prompts Light to try the notebook, discovering the truth behind first sentence. Now, with power in his hands, Yagami Light is on a quest to change the world and become God of the New World.
Gintama 
The public ban on the use of swords has left a lot of defeated samurai with a difficult decision to make concerning their future career paths! This is especially true if, as in the case of Gintoki Sakata, they're not particularly inclined towards holding a day job, which is why Gintoki's opted for the freelance route, taking any job that's offered to him as long as the financial remuneration sounds right. Unfortunately, in a brave new world filled with stray bug-eyed monsters, upwardly mobile Yakuza and overly ambitious E.T. entrepreneurs, those jobs usually don't pay as well as they should for the pain, suffering and indignities endured!
Hellsing Ultimate
Hellsing, a secret organization of the British government, has long been battling supernatural threats to keep the people safe from creatures of the night. The current leader, Integra Wingates Hellsing controls her own personal army to eliminate the undead beings, but even her highly trained soldiers pale in comparison to her most trusted vampire exterminator, a man by the name of Alucard, who is actually a powerful vampire himself. Along with Integra's mysterious butler and Alucard's new vampire minion, Seras Victoria, The Hellsing Organization must face not only regular ghouls and vampires, but a rivaling secret organization from the Vatican, and Millennium, an enigmatic group of madmen spawned by a certain war over 50 years ago.