Sip on delicious cocktail ideas!
Revelry reigns supreme on Fat Tuesday, so we have selected the best Mardi Gras party drinks to help you throw a Big Easy bash of your own! Drink ideas include Southern Champagne, Green Hurricanes, Cajun Lemonade and more!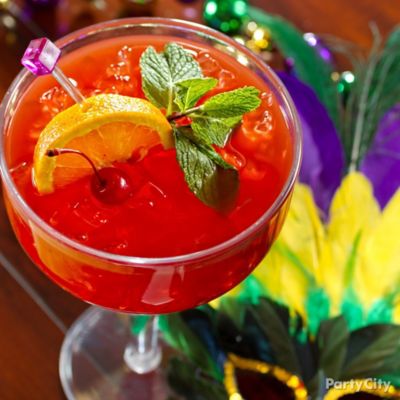 The Flambeaux
To mix up The Flambeaux, muddle an orange slice, a maraschino cherry and 2 spoonfuls of simple syrup in a glass with ice. Add 1 1/2 oz. Southern Comfort and 2 dashes Tabasco sauce. Garnish with an orange slice, a cherry, a mint sprig and a Mardi Gras drink pick. For more fun, serve in oversized goblets and fill out the drinks with orange or pineapple juice.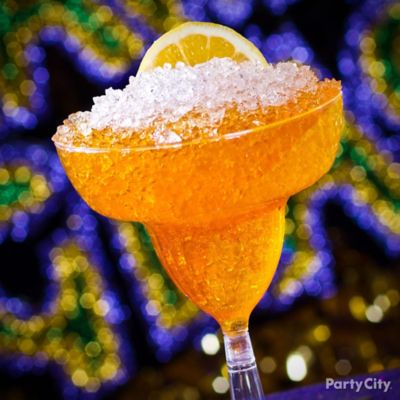 Mardi Gras Kiss
Sipping this rum and pineapple fave is as fun as parade day on Bourbon Street. To make a Mardi Grass Kiss, combine 1 1/2 oz. rum, 1/2 oz. amaretto almond liqueur, 1 oz. simple syrup and 1 oz. pineapple juice in a cocktail shaker with ice. Shake well and strain into a margarita glass. Add crushed ice and garnish with a lemon slice. Laissez les bons temps rouler – let the good times roll!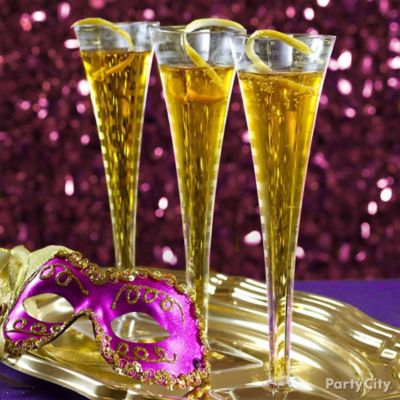 Southern Champagne
Welcome guests with bubbly, beads, masks and hats – everyone can revel like kings, queens, jesters or masked mystery characters. To serve N'awlins-style Southern Champagne, pour 1 part Southern Comfort into a tall flute, add a dash of Angostura bitters and 4 parts chilled champagne, and garnish with a lemon twist. Serve on a regal beverage tray to extend the Fat Tuesday theme.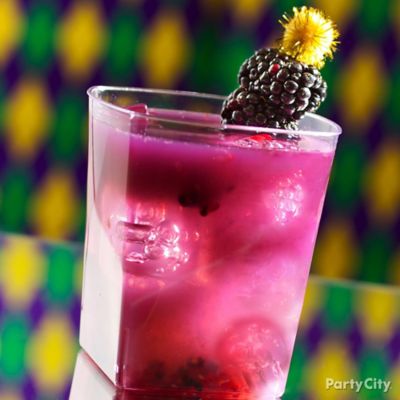 Bourbon Street Blackberry Brut
Start the party with a decadent tequila sipper that matches your Mardi Gras colors. Serve in chic square tumblers to jazz up your presentation. For Bourbon Street Blackberry Bruts, muddle 7 large blackberries, 1/2 oz. agave nectar and 1/4 oz. lemon juice in a glass. Pour ingredients into a shaker with ice and add 1 1/2 oz. silver tequila. Shake and strain into a tumbler filled with ice. Top with brut champagne and garnish with blackberries on a gold puff pick. Delish!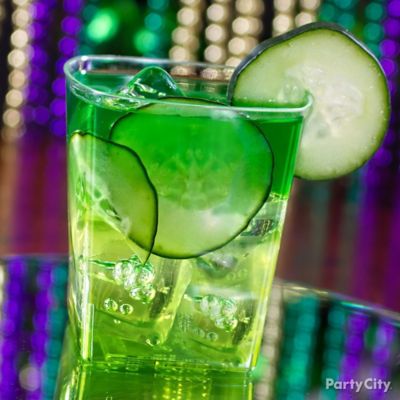 Green Hurricane
Indulge in this chic green take on the stormy French Quarter classic! To mix up a Green Hurricane, place 2 cucumber wheels in a tumbler with the juice of 2 limes. Add ice cubes, 1 1/2 oz. vodka and 1/2 oz. triple sec. Top off with 3 oz. lemon-lime soda, add a cucumber slice garnish, stir and enjoy a taste of Carnival without the crowds.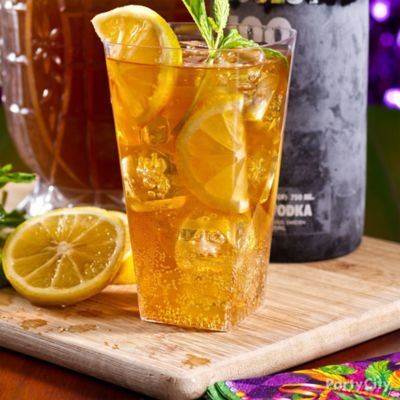 Fat Tuesday Iced Tea
Jazz up your Mardi Gras party with a DIY beverage station. Partygoers can serve up their own refreshers for a N'awlins-style bash that marches on day and night! For a Fat Tuesday Iced Tea table you'll need: several bottles of citrus vodka, pitchers of sweet lemonade and iced tea, and bowls of lemon slices and mint sprigs. Have plenty of large plastic tumblers, a bucket of ice, ice scoops and drink stirrers on hand.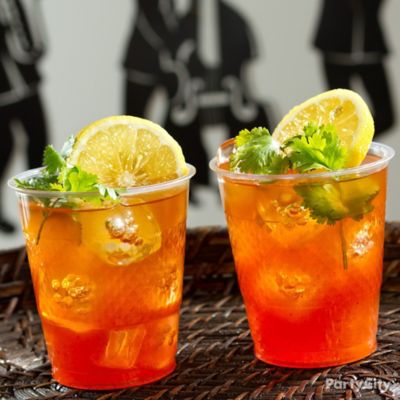 Cajun Lemonade
Spice up your Fat Tuesday feast with a hot dash of Southern flair. It's easy to make two batches, one for the non-alcohol crowd. For back-country Cajun Lemonade with kick, fill cups with ice and add 1 part dark rum, 1 part Pimms, 2 parts lemonade and a dash of Tabasco, and stir. Garnish with lemon slices and cilantro sprigs. Put on some Zydeco and dance the two-step for a knee-slappin' good time.
Cajun Whiskey Blackberry
Round out your Mardi Gras party bar with a spicy sipper honoring French Cajun culture, where blackberries are a native favorite. To make a Cajun Whiskey Blackberry, you'll need: 1 1/2 oz. rye whiskey, 3/4 oz. fresh lemon juice, 3/4 oz. blackberry syrup and Tabasco sauce to taste. Shake with ice in a cocktail shaker, strain into a champagne coupe and garnish with a blackberry on a puff pick. Everyone can enjoy a delicious taste of Cajun joie de vivre!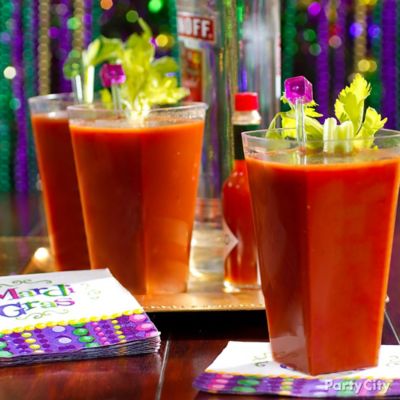 Bayou Bloody Mary
Keep your Mardi Gras party guests overnight and test out this hair-of-the-dog brunch classic. To make a Bayou Bloody Mary, add ingredients to a tumbler filled with ice: 1 oz. vodka, 6 oz. tomato juice, 5 drops Tabasco sauce, 3 drops Worcestershire sauce, 1 pinch prepared horseradish, 1 pinch celery salt, 1 pinch ground pepper, 1 dash lemon juice. Garnish with celery sticks and Mardi Gras drink picks. For more Southern personality, add a few crawfish tails and some extra spice on the rim.
Beads on beads on Mardi Gras beads!
Head down to Bourbon Street with our Mardi Gras ourfit ideas! Our wide variety of Mardi Gras costumes and colorful accessories help you get into character. Complete your outfit with masquerade masks, hats and beads and you'll be ready for the party!
How to Make a Mardi Gras Costume
Things You'll Need
Simple black zippered dress from a thrift store
Two yards of black ribbon
Six yards of black double-folded bias tape
Lots of strands of purple, green, and gold Mardi Gras beads
Hot glue gun and glue sticks
Hand sewing needle and strong thread
Sewing machine and black thread
Measuring tape, pins, and scissors
What to Do
Begin by measuring around the widest part of your body, usually either the hips or the bust. You'll make strips of beads to this length and then trim them as needed to get the perfect fit.
Cut the bias tape to the length you measured. Using the sewing machine, sew a line of stitches about 1/4 inch from the fold of the bias tape.
Cut the Mardi Gras beads into six-inch sections, sorting them by color.
Open up the open side of the bias tape and finger press it to keep it open while you work. Apply a line of hot glue to about 12 inches of the bias tape, right in the seam you made in step 2.
Take a small section of Mardi Gras beads and press one end into the hot glue. Continue pressing sections in until you have covered the area with glue. Add more glue and more beads, working in sections, until you've completed that piece of bias tape. Set it aside to dry.
Repeat with each piece of bias tape, using one color of beads at a time. When you're done, you should have enough beaded fringe to cover the dress.
When all the pieces are dry, pin the first piece of fringe to the hem of the dress. Locate the seam in which the dress' zipper is installed, and begin pinning from that point. Sew the fringe in place just above the line of stitching you created in step 2.
Add another strip of fringe about six inches above the first one, and continue to add strips all the way up the dress. Trim the excess bias tape and beads as needed to accommodate the narrower portions of the dress.
Use the black ribbons to embellish the straps of the dress. You can simply topstitch the ribbon over the straps for a fancier look, or you can add bows to the shoulders.
Jester's Hat and Cape
Jester hats are popular for Mardi Gras, and you can make your own with these easy instructions. Add a festive cape for a complete costume.
Things You'll Need
Four pieces of stiff craft felt in green
Four pieces of stiff craft felt in purple
1/4 yard of purple or green felt
Gold craft bells
One yard of purple satin fabric
One yard of green satin fabric
Two yards of gold satin fabric
One yard of wide satin ribbon in purple, green, or gold
Sewing machine and purple, green, and gold thread
Scissors, tape measure, and dressmaker's pencil
Pins and hand sewing needle
Regular lead pencil and a 36-inch piece of string
What to Do to Make the Jester's Hat
Start by measuring the circumference of your head, keeping the tape snug. Add one inch to this measurement.
Lay out your 1/4 yard of felt fabric and mark a rectangle that is three inches tall by the length you found in step 1. Cut out the rectangle.
Make a mark half an inch in from the end on one long side of the rectangle. Repeat on the other end of the same long side. This will allow for a half-inch seam.
Using the craft felt in purple and green, cut several long, thin triangles. The should be about four inches wide on the bottom by about eight inches tall. How many you need will depend on the circumference of your head.
Starting by one of the marks you made, pin the short bottoms of the triangles to the back of the long felt strip. Alternate colors as you go around the band. Adjust the spacing as needed to make it even. Stop when you reach the other mark you made.
Sew the triangles in place and remove the pins.
Sew a half-inch seam to connect the two ends of the band. Try the hat on to make sure it fits, and adjust as needed.
Finally, hand sew gold bells to the end of each triangle.
What to Do to Make the Cape
Lay out the gold satin, folding it in half with the short sides together. Tie one end of the string to the lead pencil and one to the dressmaker's pencil.
Place the point of the lead pencil on the fold of the gold fabric, right near the top edge. Have someone hold this pencil in place while you pull the string taught and draw an arc across the fabric. Cut out the arc.
Spread out the green satin without folding it. Place the folded gold satin on top of the green satin, and use it as a pattern to cut the same arc in the green. Repeat with the purple.
Unfold the gold satin with the right side up to create a semi-circle. Place the green satin right side down on top of one side of the gold, and pin it in place along the top. Place the purple satin on the other side, pinning it the same way.
Cut a shallow dip in the middle of the cape to accommodate your neck. You'll use a ribbon to tie this, so it doesn't have to be exact.
Sew the top seams of the cape using a half-inch seam allowance, stopping when you reach the neck hole.
Hem the open front of the cape and the circular bottom hem, using the appropriate thread color for each color of fabric.
Fold the wide satin ribbon in half, finger creasing it. Insert the raw edge of the neck hole into the folded ribbon. Pin it in place and topstitch.
Try on your cape and enjoy.
More Fun Mardi Gras Costumes You Can Make
Try one of these fun costume ideas to create or enhance your look for Mardi Gras:
You can make a

Mardi Gras mask

to go with your costume or to dress up a simple outfit. This is a perfect choice for anyone who needs an easy, last-minute look for the holiday.
You can also

make your own masquerade mask

to give any costume a little extra mystery and flair. Find patterns to make your

masquerade ball gown

to complete your look. This is an elegant choice for ladies.
Create a

clown costume

for Mardi Gras this year. Clowns are perfect for this light-hearted holiday, and you can choose from an elaborate costume to a simpler look, depending on the tip you have available.

Homemade pirate costumes

are a popular choice for Mardi Gras, especially since the Pirates of the Caribbean movies. Add ropes of Mardi Gras beads for even more flair.
If you're looking for a different style,

make your own Greek goddess costume

. Some of Mardi Gras' origins can be traced back to Greek and Roman times, so a goddess costume is a fun choice.
Take your inspiration for the Mardi Gras Zulu Parade and

make a grass skirt

to wear. This makes an easy and inexpensive costume.
Get Creative
At its heart, Mardi Gras is about fun and celebration. You can't go wrong when you make your own creative costume that keeps these ideas in mind. Whether you choose to be a flapper or pirate, you'll fit right in with the rest of the party-goers
Where to Find Mardi Gras Costumes
Party City
Although they don't specialize in Mardi Gras, Party City offers a great selection of costumes for this event. You'll find a wide range of complete costumes, including the Adult Mardi Gras Queen costume, which consists of a purple, green, and gold dress and retails for $40. The Parade Mardi Gras Jester costume is an even more elaborate look, featuring a giant jester's head, purple, gold, and green jumpsuit, and purple shoe covers and retailing for about $100.
Party City has locations all over the United States, and you can use the store locator to find one near you. For the best selection of Mardi Gras costumes, you may have the best luck shopping online. Consumer reviews vary by the store location, but according to Yelp, most consumers report that customer service is adequate and prices are very reasonable.
Orders ship the same day if they're placed before 5:00pm, and you can make returns at any Party City location or online within 30 days of purchase.
8 Mardi Gras Appetizers
1.Mini Muffulettas
Yield: Makes 12 appetizer servings Total time: 25 Minutes
Ingredients
2 (16-oz.) jars mixed pickled vegetables
3/4 cup pimiento-stuffed Spanish olives, chopped
2 tablespoons bottled olive oil-and-vinegar dressing
12 small dinner rolls, cut in half
6 Swiss cheese slices, cut in half
12 thin deli ham slices
12 Genoa salami slices
6 provolone cheese slices, cut in half
1. Pulse pickled vegetables in food processor 8 to 10 times or until finely chopped. Stir in olives and dressing.
2. Spread 1 heaping tablespoonful pickled vegetable mixture over cut side of each roll bottom. Top each with 1 Swiss cheese slice half, 1 ham slice, 1 salami slice, 1 provolone cheese slice half, and roll tops. Cover with plastic wrap. Serve immediately, or chill until ready to serve.
Note: We tested with Mezzetta Italian Mix Giardiniera pickled vegetables and Newman's Own Olive Oil & Vinegar dressing.
2.Southern Shrimp Cocktails
Have the seafood market steam shrimp to save time, or follow our easy instructions below. Serve the shrimp, okra, and breadsticks on a platter around a bowl of the sauce, or make individual cocktails. Use 4-oz. votive candleholders, shot glasses, cordial glasses, or mini-martini glasses.
12 unpeeled, jumbo cooked shrimp
Rémoulade Sauce
12 whole pickled okra
12 very thin crispy breadsticks, broken in half
Garnish: grape tomato slices
1. Peel shrimp, leaving tails on; devein, if desired.
2. Spoon 1 heaping Tbsp. of Rémoulade Sauce evenly into each of 12 individual serving glasses. Place 1 shrimp, 1 whole pickled okra, and 2 breadstick halves in each glass. Garnish, if desired. Serve immediately.
Note: To cook shrimp at home, bring 3 qt. water to a boil in a large Dutch oven. Cut 2 lemons in half, and squeeze juice into boiling water; add squeezed lemon halves to water. Add 1 tsp. pepper, 1 tsp. salt, and 2 bay leaves. Return to a boil over medium-high heat. Add 1 to 2 lb. unpeeled, jumbo raw shrimp, and cook 3 minutes or just until shrimp turn pink; drain. Plunge shrimp into ice water to stop the cooking process; drain. Cover and chill.
3.Mini Crab Cakes With Garlic-Chive Sauce
Cook these mini
crab
cakes over medium-low heat to ensure a deep golden crust without overcooking the delicate crab.  Pair with our homemade garlic-chive sauce.
Yield: Makes 16 cakes (serving size: 1 cake and 1 tbsp. sauce)
1 (8-oz.) package fresh lump crabmeat, drained
3 whole grain white bread slices
1/3 cup light mayonnaise
3 green onions, thinly sliced
1 teaspoon Old Bay seasoning
1 teaspoon Worcestershire sauce
2 large eggs, lightly beaten
Vegetable cooking spray
Salt to taste
Garlic-Chive Sauce
Garnish: lemon slices
1. Pick crabmeat, removing any bits of shell. Pulse bread slices in a blender or food processor 5 times or until finely crumbled. (Yield should be about 1 1/2 cups.)
2. Stir together mayonnaise and next 4 ingredients in a large bowl. Gently stir in breadcrumbs and crabmeat. Shape mixture into 16 (2-inch) cakes (about 2 Tbsp. each).
3. Cook cakes, in batches, on a hot, large griddle or nonstick skillet coated with cooking spray over medium-low heat 4 minutes on each side or until golden brown. Season with salt to taste. (Keep cakes warm in a 200° oven for up to 30 minutes.) Serve with Garlic-Chive Sauce. Garnish, if desired.
Garlic-Chive Sauce
Garlic-Chive Sauce and a squeeze of lemon juice add zesty flavor to Mini Crab Cakes.
4 Hot Crawfish Dip
In Louisiana, February means two things: Mardi Gras and crawfish. Two-thirds of all mudbugs are harvested this month. Most locals start with a boil (corn, sausage, and potatoes), but what's left goes into crawfish pie, and luscious appetizer dips.
Yield: Makes 8 to 10 servings
1/2 cup butter
1 bunch green onions, sliced (about 1 cup)
1 small green bell pepper, diced
1 (1-lb.) package frozen cooked, peeled crawfish tails, thawed and undrained
2 garlic cloves, minced
1 (4-oz.) jar diced pimiento, drained
2 teaspoons Creole seasoning
1 (8-oz.) package cream cheese, softened
French bread baguette slices
Garnishes: sliced green onion, chopped flat-leaf parsley
Melt butter in a Dutch oven over medium heat; add green onions and bell pepper. Cook, stirring occasionally, 8 minutes or until bell pepper is tender. Stir in crawfish and next 3 ingredients; cook, stirring occasionally, 10 minutes. Reduce heat to low. Stir in cream cheese until mixture is smooth and bubbly. Serve with toasted French bread slices.
5.Muffuletta Dip
We could call this Saints Dip for last year's Super Bowl winners! Parmesan cheese helps hold ingredients together. You can also serve this versatile recipe with crackers over a block of cream cheese or toss leftovers in a Caesar salad.
1 cup Italian olive salad, drained
1 cup diced salami (about 4 oz.)
1/4 cup grated Parmesan cheese
1/4 cup chopped pepperoncini salad peppers
1 (2 1/4-oz.) can sliced black olives, drained
4 ounces provolone cheese, diced
1 celery rib, finely chopped
1/2 red bell pepper, chopped
1 tablespoon olive oil
1/4 cup chopped fresh parsley
Serve with: French bread crostini
Stir together first 9 ingredients. Cover and chill 1 to 24 hours before serving. Stir in parsley just before serving. Serve with French bread crostini. Store leftovers in refrigerator up to 5 days.
6.Smoked Paprika-Glazed Andouille
Yield:Makes 10 to 12 servings
1 pound andouille sausage, cut into 1/2-inch rounds
1 tablespoon olive oil
2 garlic cloves, minced
1/2 teaspoon smoked paprika
2 tablespoons sherry wine vinegar
1 teaspoon chopped fresh thyme
Cook sausage in hot olive oil in a skillet over medium-high heat until browned. Stir in minced garlic paprika; cook 1 minute or until fragrant. Add vinegar and chopped fresh thyme; cook, stirring often, 2 minutes. Serve with wooden picks.
7.Creole Shrimp Deviled Eggs
Your guests will rave over these impressive, NOLA-inspired deviled eggs.
12 large eggs
1/3 cup fat-free Greek yogurt
2 ounces 1/3-less-fat cream cheese
1/2 cup finely chopped cooked shrimp
3 tablespoons sautéed chopped green bell pepper
1 tablespoon chopped fresh parsley
1 green onion, minced
1 teaspoon Dijon mustard
1/4 teaspoon Creole seasoning
1/4 teaspoon hot sauce
1/8 teaspoon salt
Cooked shrimp
1. Place eggs in a single layer in a stainless steel saucepan. (Do not use nonstick.) Add water to depth of 3 inches. Bring to a rolling boil; cook 1 minute. Cover, remove from heat, and let stand 10 minutes. Drain.
2. Place eggs under cold running water until just cool enough to handle. Tap eggs on the counter until cracks form; peel.
3. Slice eggs in half lengthwise, and carefully remove yolks. Mash together yolks, yogurt, and next 9 ingredients until smooth using a fork. Spoon yolk mixture into egg white halves. Top with cooked shrimp. Serve immediately, or cover and chill 1 hour before serving
8.Grits-and-Gumbo Tarts
All the iconic flavors of this Southern stew are skewered together into bite-size Grits-and-Gumbo Tarts.
36 unpeeled, medium-size raw shrimp
2 cups chicken broth
1 cup milk
1 cup uncooked regular grits
4 tablespoons butter, divided
1/2 cup finely chopped andouille sausage
1/2 cup finely diced green bell pepper
1/3 cup finely diced red onion
2 garlic cloves, minced
36 (1/2-inch-thick) fresh okra slices (8 to 10 pods)
2 teaspoons Creole seasoning
36 (4-inch) wooden skewers
1. Preheat oven to 350°. Peel and devein shrimp.
2. Bring broth and milk to a boil in a saucepan over medium-high heat. Gradually whisk in grits; return to a boil. Reduce heat to low; simmer, stirring occasionally, 10 minutes or until thickened.
3. Melt 3 Tbsp. butter in a skillet over medium-high heat; add sausage and next 3 ingredients, and sauté 5 minutes. Stir sausage mixture into cooked grits. Spoon 1 rounded tablespoonful grits mixture into each cup of 3 lightly greased 12-cup miniature muffin pans, pressing lightly.
4. Bake at 350° for 20 to 25 minutes or until lightly browned. Remove from oven. Make an indentation in center of each tart, using back of a spoon. Cool completely in pans on wire racks (about 30 minutes). Remove from pans; place in a 15- x 10-inch jelly-roll pan.
5. Sprinkle shrimp and okra with Creole seasoning. Melt remaining 1 Tbsp. butter in a skillet over medium-high heat; add shrimp and okra, and sauté 3 to 5 minutes or just until shrimp turn pink. Thread 1 shrimp and 1 okra slice onto each skewer; place 1 skewer on each tart.
6. Bake at 350° for 8 to 10 minutes or just until warm. Serve immediately.