This period piece from the minds of Shonda Rhimes and Betsy Beers builds on the ever-popular world first put to paper in the 16th century by English playwright William Shakespeare in the famous tragedy "Romeo and Juliet." Picking up after the play's end — with the titular characters both dead — "Still Star-Crossed" follows the lives of their families, the long-feuding Montagues and Capulets, as they continue to find themselves entangled through tragedy, palace intrigue and even more ill-fated romances.Following the deaths of Romeo and Juliet, Rosaline Capulet is betrothed against her will to Benvolio Montague by Prince Escalus, who hopes to end the bitter feud between their families. The two set out to find a way to prevent the arranged marriage and, at the same time, prevent the destruction of their families.
Still Star-Crossed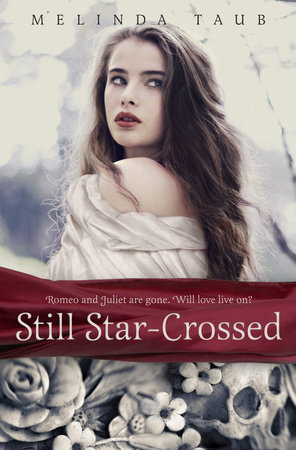 ABOUT STILL STAR-CROSSED
Now an ABC TV show from producer Shonda Rhimes!
Discover what happened after the tragic deaths of Romeo and Juliet, as mysterious figures in Verona are determined to reignite the feud between the Montagues and the Capulets.
In fair Verona, enemies still walk the streets.
Two news hearts. Same two families.
The fight to the altar is about to happen.
All. Over. Again.
Age Range: 12 – 18
Love and violence intertwine in this spectacular sequel to Shakespeare's Romeo and Juliet.
The peace purchased with Romeo's and Juliet's deaths lasts two weeks before the Capulets and Montagues renew their fight in the streets of Verona. Those closest to the young lovers struggle with their grief: Rosaline Tirimo mourns both her cousin Juliet and her former suitor, Romeo, but resolves to escape the cycle of violence and the grudging charity of the Capulet family by becoming a nun. Benvolio Montague sees Mercutio's and Romeo's ghosts everywhere, but he suppresses his anger at the Capulets. Then Prince Escalus attempts to force the feuding families into concord by arranging a marriage between Rosaline and Benvolio, even as a third party incites riots and slays young Capulets and Montagues indiscriminately. Unlike their cousins' whirlwind romance, Rosaline and Benvolio's courtship consists of squabbling, sleuthing and a grudging sense of duty. Taub splits her focus between the personal and the political, sending the narrative shuttling among Rosaline, Benvolio, Rosaline's spirited sister, Livia, and desperate Prince Escalus without losing the thread. Rosaline and Benvolio's tale is equal parts historical fiction, detective story and high adventure, relayed in accurate but not overwhelming period language, informed by Romeo and Juliet and Shakespeare's other works but offering an expanded and original perspective.
A perfect blend of the intimate and the epic, the story both honors its origin and works in its own right. (Historical fiction. 12 & up)
SAVING JULIET
What at first seems to be another you-don't-really-want-to-be-a-star plot breaks out into an almost-historical, almost time-travel fantasy surrounding Romeo and Juliet. Mimi doesn't want to be the scion of her acting family, propping up their fabled New York theater. She runs from her last performance as Juliet and finds herself in an odd version of 1594 Verona, accompanied by her insufferable pop-star leading man, Troy. Selfors uses the fantasy to illustrate the backstory to Romeo and Juliet, complete with feuding families and the filth of the times. Mimi decides to save Juliet from her fate, but her interference in Shakespeare's plot causes unexpected events and plenty of real danger for both Mimi and Troy. Most of the characters from the original appear, allowing Selfors to introduce her audience to the play, much like Caroline Cooney did for Macbeth with Enter Three Witches (2007). Absorbing, exciting and useful for teachers, too. (Fiction. YA)
Age Range: 14 & up
Main Cast:
Grant Bowler as Lord Damiano Montague
Wade Briggs as Benvolio Montague
Torrance Coombs as Count Paris
Dan Hildebrand as Friar Lawrence
Lashana Lynch as Rosaline Capulet, Livia's sister, the niece of Lord and Lady Capulet and Juliet's cousin and handmaiden
Ebonée Noel as Livia Capulet, Rosaline's sister, the niece of Lord and Lady Capulet and Juliet's cousin
Medalion Rahimi as Princess Isabella
Zuleikha Robinson as Lady Giuliana Capulet
Sterling Sulieman as Prince Escalus
Susan Wooldridge as The Nurse
Anthony Stewart Head as Lord Silvestro Capulet
Recurring
Lucien Laviscount as Romeo Montague
Clara Rugaard as Juliet Capulet
Gregg Chillin as Mercutio
Shazad Latif as Tybalt Capule
"In Fair Verona, Where We Lay Our Scene"
Rosaline Capulet and Benvolio Montague are the witnesses for the marriage of Romeo Montague and Juliet Capulet, the ceremony performed by Friar Lawrence. Prince Escalus becomes ruler when his father dies and he is determined to honor his father's death wish to bring the feud between the Montagues and the Capulets to an end. A fight emerges between the families at the ball in which Romeo kills Tybalt in retaliation for Tybalt's killing of Mercutio. Escalus does not want Romeo to be executed due to his being the only Montague heir. Juliet is forcibly betrothed to Count Paris and devises a plan with Rosaline and Friar to appear dead so that Romeo can take her from the Capulet tomb and they can run away together. However, Count Paris attempts to deter Romeo but is defeated by him in a sword duel, but doesn't die. Romeo approaches his wife and believes her to be dead in actuality and takes a poison, killing himself and lying next to her. Juliet takes the poison as well after waking up and finding Romeo dead. Juliet's cruel mother, Giuliana, informs Rosaline that she intends to make life more miserable for her and her sister, Livia. A funeral is held for the two where Escalus begs the families to honor their children by ending the feud. Escalus then presents a statue of Juliet from the Montagues to the Capulets; however, the statue has "Harlot" written on it which creates a riot at the funeral and Rosaline tells Livia they must escape the Capulets but Livia tells her that she intends to stay regardless of Rosaline's decision. Livia aids the nurse and Giuliana in saving Paris' life. Rosaline is intercepted during her escape and told by Lord Capulet and Prince Escalus that she is to marry Benvolio, whom she despises, as a last ditch effort for peace. She refuses and runs; Escalus pursues her and upon catching her, reminisces of their time in love together and his having no choice in marrying her off. They kiss and then notice Benvolio watching them from a balcony.
Romeo Montague Romeo Montecchi) is the protagonist of William Shakespeare's tragedy Romeo and Juliet. The son of Montague and his wife, he secretly loves and marries Juliet, a member of the rival House of Capulet. Forced into exile after slaying Juliet's cousin, Tybalt, in a duel, Romeo commits suicide upon hearing falsely of Juliet's death.Romeo, an only child like Juliet, is one of the most important characters of the play, and has a consistent presence throughout it. His role as an idealistic lover has led the word "Romeo" to become a synonym for a passionate male lover in various languages. Although often treated as such, it is not clear that "Montague" is a surname in the modern sense.
Juliet Capulet  Giulietta Capuleti) is the female protagonist in William Shakespeare's romantic tragedy Romeo and Juliet. Juliet is the only daughter of the patriarch of the House of Capulet and falls in love with Romeo, a member of the House of Montague (with which the Capulets have a blood feud). The story has a long history that precedes Shakespeare himself.
The play, set in Verona, Italy, begins with a street brawl between Montague and Capulet servants who, like their masters, are sworn enemies. Prince Escalus of Verona intervenes and declares that further breach of the peace will be punishable by death. Later, Count Paris talks to Capulet about marrying his daughter Juliet, but Capulet asks Paris to wait another two years and invites him to attend a planned Capulet ball. Lady Capulet and Juliet's nurse try to persuade Juliet to accept Paris's courtship.
Meanwhile, Benvolio talks with his cousin Romeo, Montague's son, about Romeo's recent depression. Benvolio discovers that it stems from unrequited infatuation for a girl named Rosaline, one of Capulet's nieces. Persuaded by Benvolio and Mercutio, Romeo attends the ball at the Capulet house in hopes of meeting Rosaline. However, Romeo instead meets and falls in love with Juliet. Juliet's cousin, Tybalt, is enraged at Romeo for sneaking into the ball but is only stopped from killing Romeo by Juliet's father, who does not wish to shed blood in his house. After the ball, in what is now called the "balcony scene", Romeo sneaks into the Capulet orchard and overhears Juliet at her window vowing her love to him in spite of her family's hatred of the Montagues. Romeo makes himself known to her and they agree to be married. With the help of Friar Laurence, who hopes to reconcile the two families through their children's union, they are secretly married the next day.
Tybalt, meanwhile, still incensed that Romeo had sneaked into the Capulet ball, challenges him to a duel. Romeo, now considering Tybalt his kinsman, refuses to fight. Mercutio is offended by Tybalt's insolence, as well as Romeo's "vile submission",[1] and accepts the duel on Romeo's behalf. Mercutio is fatally wounded when Romeo attempts to break up the fight. Grief-stricken and wracked with guilt, Romeo confronts and slays Tybalt.
Montague argues that Romeo has justly executed Tybalt for the murder of Mercutio. The Prince, now having lost a kinsman in the warring families' feud, exiles Romeo from Verona, under penalty of death if he ever returns. Romeo secretly spends the night in Juliet's chamber, where they consummate their marriage. Capulet, misinterpreting Juliet's grief, agrees to marry her to Count Paris and threatens to disown her when she refuses to become Paris's "joyful bride". When she then pleads for the marriage to be delayed, her mother rejects her.
Juliet visits Friar Laurence for help, and he offers her a potion that will put her into a deathlike coma for "two and forty hours". The Friar promises to send a messenger to inform Romeo of the plan so that he can rejoin her when she awakens. On the night before the wedding, she takes the drug and, when discovered apparently dead, she is laid in the family crypt.
The messenger, however, does not reach Romeo and, instead, Romeo learns of Juliet's apparent death from his servant Balthasar. Heartbroken, Romeo buys poison from an apothecary and goes to the Capulet crypt. He encounters Paris who has come to mourn Juliet privately. Believing Romeo to be a vandal, Paris confronts him and, in the ensuing battle, Romeo kills Paris. Still believing Juliet to be dead, he drinks the poison. Juliet then awakens and, finding Romeo dead, stabs herself with his dagger. The feuding families and the Prince meet at the tomb to find all three dead. Friar Laurence recounts the story of the two "star-cross'd lovers". The families are reconciled by their children's deaths and agree to end their violent feud. The play ends with the Prince's elegy for the lovers: "For never was a story of more woe/Than this of Juliet and her Romeo."
Romeo and JulietWilliam Shakespeare
Plot Overview
In the streets of Verona another brawl breaks out between the servants of the feuding noble families of Capulet and Montague. Benvolio, a Montague, tries to stop the fighting, but is himself embroiled when the rash Capulet, Tybalt, arrives on the scene. After citizens outraged by the constant violence beat back the warring factions, Prince Escalus, the ruler of Verona, attempts to prevent any further conflicts between the families by decreeing death for any individual who disturbs the peace in the future.
Romeo, the son of Montague, runs into his cousin Benvolio, who had earlier seen Romeo moping in a grove of sycamores. After some prodding by Benvolio, Romeo confides that he is in love with Rosaline, a woman who does not return his affections. Benvolio counsels him to forget this woman and find another, more beautiful one, but Romeo remains despondent.
Meanwhile, Paris, a kinsman of the Prince, seeks Juliet's hand in marriage. Her father Capulet, though happy at the match, asks Paris to wait two years, since Juliet is not yet even fourteen. Capulet dispatches a servant with a list of people to invite to a masquerade and feast he traditionally holds. He invites Paris to the feast, hoping that Paris will begin to win Juliet's heart.
Romeo and Benvolio, still discussing Rosaline, encounter the Capulet servant bearing the list of invitations. Benvolio suggests that they attend, since that will allow Romeo to compare his beloved to other beautiful women of Verona. Romeo agrees to go with Benvolio to the feast, but only because Rosaline, whose name he reads on the list, will be there.
In Capulet's household, young Juliet talks with her mother, Lady Capulet, and her nurse about the possibility of marrying Paris. Juliet has not yet considered marriage, but agrees to look at Paris during the feast to see if she thinks she could fall in love with him.The feast begins. A melancholy Romeo follows Benvolio and their witty friend Mercutio to Capulet's house. Once inside, Romeo sees Juliet from a distance and instantly falls in love with her; he forgets about Rosaline completely. As Romeo watches Juliet, entranced, a young Capulet, Tybalt, recognizes him, and is enraged that a Montague would sneak into a Capulet feast. He prepares to attack, but Capulet holds him back. Soon, Romeo speaks to Juliet, and the two experience a profound attraction. They kiss, not even knowing each other's names. When he finds out from Juliet's nurse that she is the daughter of Capulet—his family's enemy—he becomes distraught. When Juliet learns that the young man she has just kissed is the son of Montague, she grows equally upset.
As Mercutio and Benvolio leave the Capulet estate, Romeo leaps over the orchard wall into the garden, unable to leave Juliet behind. From his hiding place, he sees Juliet in a window above the orchard and hears her speak his name. He calls out to her, and they exchange vows of love.
Romeo hurries to see his friend and confessor Friar Lawrence, who, though shocked at the sudden turn of Romeo's heart, agrees to marry the young lovers in secret since he sees in their love the possibility of ending the age-old feud between Capulet and Montague. The following day, Romeo and Juliet meet at Friar Lawrence's cell and are married. The Nurse, who is privy to the secret, procures a ladder, which Romeo will use to climb into Juliet's window for their wedding night.
The next day, Benvolio and Mercutio encounter Tybalt—Juliet's cousin—who, still enraged that Romeo attended Capulet's feast, has challenged Romeo to a duel. Romeo appears. Now Tybalt's kinsman by marriage, Romeo begs the Capulet to hold off the duel until he understands why Romeo does not want to fight. Disgusted with this plea for peace, Mercutio says that he will fight Tybalt himself. The two begin to duel. Romeo tries to stop them by leaping between the combatants. Tybalt stabs Mercutio under Romeo's arm, and Mercutio dies. Romeo, in a rage, kills Tybalt. Romeo flees from the scene. Soon after, the Prince declares him forever banished from Verona for his crime. Friar Lawrence arranges for Romeo to spend his wedding night with Juliet before he has to leave for Mantua the following morning.
In her room, Juliet awaits the arrival of her new husband. The Nurse enters, and, after some confusion, tells Juliet that Romeo has killed Tybalt. Distraught, Juliet suddenly finds herself married to a man who has killed her kinsman. But she resettles herself, and realizes that her duty belongs with her love: to Romeo.
Romeo sneaks into Juliet's room that night, and at last they consummate their marriage and their love. Morning comes, and the lovers bid farewell, unsure when they will see each other again. Juliet learns that her father, affected by the recent events, now intends for her to marry Paris in just three days. Unsure of how to proceed—unable to reveal to her parents that she is married to Romeo, but unwilling to marry Paris now that she is Romeo's wife—Juliet asks her nurse for advice. She counsels Juliet to proceed as if Romeo were dead and to marry Paris, who is a better match anyway. Disgusted with the Nurse's disloyalty, Juliet disregards her advice and hurries to Friar Lawrence. He concocts a plan to reunite Juliet with Romeo in Mantua. The night before her wedding to Paris, Juliet must drink a potion that will make her appear to be dead. After she is laid to rest in the family's crypt, the Friar and Romeo will secretly retrieve her, and she will be free to live with Romeo, away from their parents' feuding.
Juliet returns home to discover the wedding has been moved ahead one day, and she is to be married tomorrow. That night, Juliet drinks the potion, and the Nurse discovers her, apparently dead, the next morning. The Capulets grieve, and Juliet is entombed according to plan. But Friar Lawrence's message explaining the plan to Romeo never reaches Mantua. Its bearer, Friar John, gets confined to a quarantined house. Romeo hears only that Juliet is dead.
Romeo learns only of Juliet's death and decides to kill himself rather than live without her. He buys a vial of poison from a reluctant Apothecary, then speeds back to Verona to take his own life at Juliet's tomb. Outside the Capulet crypt, Romeo comes upon Paris, who is scattering flowers on Juliet's grave. They fight, and Romeo kills Paris. He enters the tomb, sees Juliet's inanimate body, drinks the poison, and dies by her side. Just then, Friar Lawrence enters and realizes that Romeo has killed Paris and himself. At the same time, Juliet awakes. Friar Lawrence hears the coming of the watch. When Juliet refuses to leave with him, he flees alone. Juliet sees her beloved Romeo and realizes he has killed himself with poison. She kisses his poisoned lips, and when that does not kill her, buries his dagger in her chest, falling dead upon his body.
The watch arrives, followed closely by the Prince, the Capulets, and Montague. Montague declares that Lady Montague has died of grief over Romeo's exile. Seeing their children's bodies, Capulet and Montague agree to end their long-standing feud and to raise gold statues of their children side-by-side in a newly peaceful Verona.
Character List
Romeo –  The son and heir of Montague and Lady Montague. A young man of about sixteen, Romeo is handsome, intelligent, and sensitive. Though impulsive and immature, his idealism and passion make him an extremely likable character. He lives in the middle of a violent feud between his family and the Capulets, but he is not at all interested in violence. His only interest is love. At the beginning of the play he is madly in love with a woman named Rosaline, but the instant he lays eyes on Juliet, he falls in love with her and forgets Rosaline. Thus, Shakespeare gives us every reason to question how real Romeo's new love is, but Romeo goes to extremes to prove the seriousness of his feelings. He secretly marries Juliet, the daughter of his father's worst enemy; he happily takes abuse from Tybalt; and he would rather die than live without his beloved. Romeo is also an affectionate and devoted friend to his relative Benvolio, Mercutio, and Friar .Lawrence.
Juliet –  The daughter of Capulet and Lady Capulet. A beautiful thirteen-year-old girl, Juliet begins the play as a naïve child who has thought little about love and marriage, but she grows up quickly upon falling in love with Romeo, the son of her family's great enemy. Because she is a girl in an aristocratic family, she has none of the freedom Romeo has to roam around the city, climb over walls in the middle of the night, or get into swordfights. Nevertheless, she shows amazing courage in trusting her entire life and future to Romeo, even refusing to believe the worst reports about him after he gets involved in a fight with her cousin. Juliet's closest friend and confidant is her nurse, though she's willing to shut the Nurse out of her life the moment the Nurse turns against Romeo.
Friar Lawrence –  A Franciscan friar, friend to both Romeo and Juliet. Kind, civic-minded, a proponent of moderation, and always ready with a plan, Friar Lawrence secretly marries the impassioned lovers in hopes that the union might eventually bring peace to Verona. As well as being a Catholic holy man, Friar Lawrence is also an expert in the use of seemingly mystical potions and herbs.
Mercutio –  A kinsman to the Prince, and Romeo's close friend. One of the most extraordinary characters in all of Shakespeare's plays, Mercutio overflows with imagination, wit, and, at times, a strange, biting satire and brooding fervor. Mercutio loves wordplay, especially sexual double entendres. He can be quite hotheaded, and hates people who are affected, pretentious, or obsessed with the latest fashions. He finds Romeo's romanticized ideas about love tiresome, and tries to convince Romeo to view love as a simple matter of sexual appetite.
The Nurse –  Juliet's nurse, the woman who breast-fed Juliet when she was a baby and has cared for Juliet her entire life. A vulgar, long-winded, and sentimental character, the Nurse provides comic relief with her frequently inappropriate remarks and speeches. But, until a disagreement near the play's end, the Nurse is Juliet's faithful confidante and loyal intermediary in Juliet's affair with Romeo. She provides a contrast with Juliet, given that her view of love is earthy and sexual, whereas Juliet is idealistic and intense. The Nurse believes in love and wants Juliet to have a nice-looking husband, but the idea that Juliet would want to sacrifice herself for love is incomprehensible to her.
Tybalt
 –  A Capulet, Juliet's cousin on her mother's side. Vain, fashionable, supremely aware of courtesy and the lack of it, he becomes aggressive, violent, and quick to draw his sword when he feels his pride has been injured. Once drawn, his sword is something to be feared. He loathes Montagues.
Capulet –  The patriarch of the Capulet family, father of Juliet, husband of Lady Capulet, and enemy, for unexplained reasons, of Montague. He truly loves his daughter, though he is not well acquainted with Juliet's thoughts or feelings, and seems to think that what is best for her is a "good" match with Paris. Often prudent, he commands respect and propriety, but he is liable to fly into a rage when either is lacking.
Lady Capulet –  Juliet's mother, Capulet's wife. A woman who herself married young (by her own estimation she gave birth to Juliet at close to the age of fourteen), she is eager to see her daughter marry Paris. She is an ineffectual mother, relying on the Nurse for moral and pragmatic support.
Montague –  Romeo's father, the patriarch of the Montague clan and bitter enemy of Capulet. At the beginning of the play, he is chiefly concerned about Romeo's melancholy.
Lady Montague –  Romeo's mother, Montague's wife. She dies of grief after Romeo is exiled from Verona.
Paris –  A kinsman of the Prince, and the suitor of Juliet most preferred by Capulet. Once Capulet has promised him he can marry Juliet, he behaves very presumptuous toward her, acting as if they are already married.
Benvolio –  Montague's nephew, Romeo's cousin and thoughtful friend, he makes a genuine effort to defuse violent scenes in public places, though Mercutio accuses him of having a nasty temper in private. He spends most of the play trying to help Romeo get his mind off Rosaline, even after Romeo has fallen in love with Juliet.
Prince Escalus –  The Prince of Verona. A kinsman of Mercutio and Paris. As the seat of political power in Verona, he is concerned about maintaining the public peace at all costs.
Friar John –  A Franciscan friar charged by Friar Lawrence with taking the news of Juliet's false death to Romeo in Mantua. Friar John is held up in a quarantined house, and the message never reaches Romeo.
Balthasar –  Romeo's dedicated servant, who brings Romeo the news of Juliet's death, unaware that her death is a ruse.
Sampson & Gregory –  Two servants of the house of Capulet, who, like their master, hate the Montagues. At the outset of the play, they successfully provoke some Montague men into a fight.
Abram –  Montague's servant, who fights with Sampson and Gregory in the first scene of the play.
The Apothecary –  An apothecary in Mantua. Had he been wealthier, he might have been able to afford to value his morals more than money, and refused to sell poison to Romeo.
Peter –  A Capulet servant who invites guests to Capulet's feast and escorts the Nurse to
meet with Romeo. He is illiterate, and a bad singer.
Rosaline –  The woman with whom Romeo is infatuated at the beginning of the play. Rosaline never appears onstage, but it is said by other characters that she is very beautiful and has sworn to live a life of chastity.
Ruling house of Verona

Prince Escalus is the ruling Prince of Verona.
Count Paris is a kinsman of Escalus who wishes to marry Juliet.
Mercutio is another kinsman of Escalus, a friend of Romeo.

House of Capulet

Capulet is the patriarch of the house of Capulet.
Lady Capulet is the matriarch of the house of Capulet.
Juliet is the 13-year-old daughter of Capulet, the play's female protagonist.
Tybalt is a cousin of Juliet, the nephew of Lady Capulet.
The Nurse is Juliet's personal attendant and confidante.
Rosaline is Lord Capulet's niece, Romeo's love in the beginning of the story.
Peter, Sampson, and Gregory are servants of the Capulet household.

House of Montague

Montague is the patriarch of the house of Montague.
Lady Montague is the matriarch of the house of Montague.
Romeo is the son of Montague, the play's male protagonist.
Benvolio is Romeo's cousin and best friend.
Abram and Balthasar are servants of the Montague household.

Others

Friar Laurence is a Franciscan friar and Romeo's confidant.
Friar John is sent to deliver Friar Laurence's letter to Romeo.
An Apothecary who reluctantly sells Romeo poison.
A Chorus reads a prologue to each of the first two acts.
 Romeo and Juliet  Movies:
Romeo and Juliet (1968 film) – 
In Verona, Italy, the longstanding feud between the Montague and the Capulet clans breaks out in a street brawl, broken up by the Prince of the city. The same night, two teenagers of the two families — Romeo and Juliet — meet at a Capulet masked ball and become deeply infatuated. Later, Romeo stumbles into the secluded garden under Juliet's bedroom balcony and the two exchange impassioned pledges. They are soon secretly married by Romeo's confessor and father figure, Friar Laurence, with the assistance of Juliet's nursemaid.
Another street duel breaks out between Juliet's first cousin Tybalt and Romeo's best friend Mercutio when Tybalt insults Romeo. Since Tybalt is Juliet's cousin and Romeo has just been married to Juliet, he sees Tybalt as family and refuses to fight him, leading Mercutio to be a loyal friend and fight for him, leading to Mercutio's death. Romeo retaliates by fighting Tybalt and killing him; Romeo is punished by the Prince with banishment instead of the death penalty. Romeo, however, sees his banishment as worse than death, as Verona is the only home he has known and does not want to be pulled away from Juliet. Friar Laurence eventually convinces Romeo that he is very lucky and should be thankful for what he has. Romeo and Juliet secretly spend their wedding night together and consummate their marriage.
Unaware of Juliet's secret marriage, her father has arranged for her to marry wealthy Count Paris. In order to escape this arranged marriage and remain faithful to Romeo, Juliet consumes a potion prepared by Friar Laurence intended to make her appear dead for forty-two hours. Friar Laurence plans to inform Romeo of the hoax so that Romeo can meet Juliet after her burial and escape with her when she recovers from her swoon, so he sends another Friar, John, to give Romeo a letter describing the plan. However, when Balthasar, Romeo's servant, sees Juliet being buried under the impression that she is dead, he goes to tell Romeo and reaches him before Friar John. In despair, Romeo goes to Juliet's tomb and kills himself by drinking poison. Awakening shortly after he expires, Juliet discovers a dead Romeo and proceeds to stab herself with his dagger, piercing her abdomen. Later, the two families attend their joint funeral and agree to end the feud.
Cast
Leonard Whiting as Romeo
Olivia Hussey as Juliet
John McEnery as Mercutio
Milo O'Shea as Friar Laurence
Pat Heywood as The Nurse
Robert Stephens as The Prince
Michael York as Tybalt
Bruce Robinson as Benvolio
Paul Hardwick as Lord Capulet
Natasha Parry as Lady Capulet
Antonio Pierfederici as Lord Montague
Esmeralda Ruspoli as Lady Montague
Keith Skinner as Balthasar
Roberto Bisacco as Paris
Laurence Olivier as Chorus and voice of Lord Montague
Romeo & Juliet (II) (2013)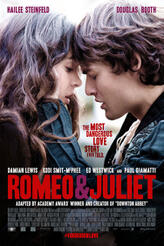 In the city of Verona, two families have a prolonged and ancient feud. The Montagues and the Capulets co-exist under the stern eye of the Prince, but the hatred between the families threatens all, in particular the children. The young men of both families are hot-blooded and ready to fight at any provocation, despite the Prince's edict against such fights. But when young Romeo, a Montague, first sets eyes on the virginal Capulet daughter Juliet, no enmity between families can prevent his falling in love with her, and her with him. From this risk-laden romance comes both joy and tragedy for all.
Cast
Hailee Steinfeld

Juliet

Douglas Booth

Romeo

Ed Westwick

Tybalt

Kodi Smit-McPhee

Benvolio

Paul Giamatti

Friar Laurence

Stellan Skarsgård

Prince Escalus

Christian Cooke

Mercutio

Damian Lewis

Lord Capulet

Tomas Arana

Lord Montague

Natascha McElhone

Lady Capulet

Lesley Manville

Nurse

Laura Morante

Lady Montague

Leon Vitali

Apothecary

Tom Wisdom

Count Paris

Nathalie Rapti Gomez

Rosaline

Anton Alexander

Abraham
West Side Story (film)1961
In the summer of 1957 in the West Side's Lincoln Square neighborhood in Manhattan, there is tension between a white American gang, the Jets, led by Riff, and a Puerto Rican gang, the Sharks, led by Bernardo. After a brawl erupts, Lieutenant Schrank and Officer Krupke arrive and break it up. The Jets decide to challenge the Sharks to a rumble for neighborhood control, at an upcoming dance.
Riff decides that his best friend Tony, the co-founder of the Jets who left the gang, should fight. Riff invites Tony to the dance, but Tony is uninterested. He tells Riff that he senses something important will happen, which Riff suggests could have a correlation with the dance.
Bernardo's younger sister, Maria, tells her best friend and Bernardo's girlfriend, Anita, how excited she is about the dance. At the dance, the gangs and girls refuse to intermingle. Tony arrives and he and Maria fall in love. However, Bernardo angrily demands Tony to stay away from her. Riff proposes a meeting with Bernardo at Doc's drug store.
Maria is sent home; Anita argues that Bernardo is overprotective of Maria and they compare the advantages of Puerto Rico and the United States.
Tony discreetly visits Maria on her fire escape, where they reaffirm their love. Krupke, who suspects the Jets are planning something, visits them and warns them not to cause trouble. When the Sharks arrive, both groups agree to have the showdown the following evening under the highway, with a one-on-one fist fight. When Schrank arrives, the gangs feign friendship. Schrank orders the Sharks out and unsuccessfully tries to get the Jets to divulge the location of the fight.
The next day at the bridal shop, Anita accidentally tells Maria about the rumble. Tony arrives to see Maria, which shocks Anita. They profess their love and Anita warns them about the consequences if Bernardo learns of their relationship. Maria has Tony promise to prevent the rumble. Tony and Maria fantasize about their wedding ceremony.
The Jets and Sharks approach the area under the highway. Tony arrives to stop the fight, but Bernardo antagonizes him. Unwilling to watch Tony be humiliated, Riff initiates a knife fight. Tony tries to intervene, which leads to Bernardo killing Riff. Tony kills Bernardo with Riff's knife and a melee ensues. Police sirens blare and everyone flees, leaving behind the bodies of Riff and Bernardo.
Maria waits for Tony on the rooftop of her apartment building when Chino arrives and tells her what happened. Tony arrives and explains what transpired and asks for her forgiveness before he turns himself in to the police. Maria confirms her love for him and asks Tony to stay with her.
The Jets have reassembled outside a garage, with their new leader, Ice having them focus on their reaction to the police rather than their rival gang. Anybodys arrives and warns them that Chino, armed with a stolen handgun, is searching out Tony for revenge, so Ice sends the Jets to warn Tony of the danger.
Maria and Tony arrange to meet at Doc's, where they will pick up getaway money so they can elope. Anita spots Tony leaving and chides Maria for the relationship, but Maria convinces her to help them elope.
Schrank arrives and questions Maria about the rumble. To cover for Tony, Maria has Anita tell him that Maria is detained from meeting him. When Anita reaches Doc's, the Jets harass her, until Doc intervenes. Anita declares that Bernardo was right about them and that Chino killed Maria. Doc banishes the Jets and gives Tony his getaway money in the basement and delivers Anita's message. Tony runs into the streets, shouting for Chino to kill him as well.
In the playground next to Doc's, Tony spots Maria and run toward each other, only for Chino to arrive and shoot Tony. The Jets and Sharks arrive to find Maria holding Tony, who dies. Maria stops the gangs from fighting and takes the gun from Chino and threatens to shoot everyone, blaming their hate for the deaths. However, the gun turns out to be empty, as Chino used the last bullet to murder Tony. Schrank, Krupke and Doc arrive and the gangs form a funeral procession, with Maria following. The police arrest Chino and lead him away.
Cast
Natalie Wood as Maria Nunez, Bernardo's younger sister, Chino's arranged fiancée, who falls in love with Tony

Marni Nixon as Maria's singing voice

Richard Beymer as Tony Wyzek, co-founder of the Jets but has outgrown their street culture. Remains best friend of Riff, works at Doc's drug store, and becomes Maria's star-crossed lover.

Jimmy Bryant as Tony's singing voice

Russ Tamblyn as Riff Lorton, leader of the Jets, best friend of Tony
Rita Moreno as Anita, Bernardo's girlfriend, Maria's closest confidante
George Chakiris as Bernardo Nunez, leader of the Sharks, older brother of Maria and Anita's man
Simon Oakland as Lieutenant Schrank, police lieutenant
Ned Glass as Doc, drugstore owner, Tony's boss; a decent, elderly man
William Bramley as Officer Krupke, neighborhood cop and Schrank's sergeant
Jets Guy
Tucker Smith as Ice, Riff's lieutenant, becomes leader of the Jets after Riff's death.
Tony Mordente as Action, a hot-tempered Jet.
Eliot Feld as Baby John, the youngest member of the Jets. A relative innocent.
David Winters as A-Rab, Baby John's best friend
Bert Michaels as Snowboy
David Bean as Tiger
Robert Banas as Joyboy
Anthony 'Scooter' Teague as Big Deal
Harvey Evans (Harvey Hohnecker) as Mouthpiece
Tommy Abbott as Gee-Tar
Jet Girls
Susan Oakes as Anybodys, a tomboy and wannabe Jet
Gina Trikonis as Graziella, Riff's girlfriend. She cries in grief as a result of his death.
Carole D'Andrea as Velma, Ice's girlfriend
Sharks Guy
Jose DeVega as Chino Martin, Bernardo's best friend
Jay Norman as Pepe, Bernardo's lieutenant
Gus Trikonis as Indio, Pepe's best friend
Eddie Verso as Juano
Jaime Rogers as Loco
Larry Roquemore as Rocco
Robert E. Thompson as Luis
Nick Covacevich as Toro
Rudy Del Campo as Del Campo
Andre Tayir as Chile
Shark Girls
Yvonne Othon as Consuelo, Pepe's girlfriend
Suzie Kaye as Rosalia, Indio's girlfriend
Joanne Miya as Francisca, Toro's girlfrien
Romeo + Juliet 1996
In Verona Beach, the Capulets and the Montagues are arch-rivals. The animosity of the older generation—Fulgencio and Gloria Capulet and Ted and Caroline Montague—is felt by their younger relatives. A gunfight between the Montague boys led by Benvolio, Romeo's cousin, and the Capulet boys led by Tybalt, Juliet's cousin, creates chaos in the city. The Chief of Police, Captain Prince, reprimands the families, warning them that if such behavior continues, their lives "shall pay the forfeit of the peace".
Benvolio meets Romeo on a beach. While playing a game of pool they learn of a party being held by the Capulets that evening which they decide to gate-crash. Romeo agrees to come after discovering that Rosaline, with whom he is in love, is attending.
The Montague boys meet their friend, Mercutio, who has tickets to the Capulet party. Romeo takes the ecstasy Mercutio gave him and they proceed to the Capulet mansion. The effects of the drug and the party overwhelm Romeo, who goes to the restroom. While admiring an aquarium, he and Juliet see each other and fall instantly in love. Tybalt spots Romeo and vows to kill him for invading his family's home, but Fulgencio stops him.
Romeo and Juliet sneak into an elevator and kiss. The nurse spots them when the doors open and drags Juliet away, while revealing to her that Romeo is a Montague. At the same time, Romeo realizes that Juliet is a Capulet. Mercutio takes Romeo from the party, but he sneaks back to the mansion, hiding under Juliet's balcony. Juliet emerges into the yard and proclaims her love for him before Romeo sneaks up behind her. Juliet warns him that he is risking his life, but Romeo tells her he does not care whether he is caught. Knowing her nurse is looking for her, Juliet tells him that, if he sends word by the following day, they will be betrothed. Romeo visits Father Lawrence, telling him he wants to marry Juliet. He agrees to marry the pair in hopes that their marriage will help ease the tensions between the families. Romeo passes the word on to Juliet's nurse and the lovers are married.
Tybalt encounters Mercutio just as Romeo arrives. Romeo attempts to make peace, but Tybalt assaults him. Mercutio intervenes and batters Tybalt, and is about to finish him off by hitting him with a log when Romeo stops him. Tybalt then wounds Mercutio with a shard of glass, which Mercutio claims is merely "a scratch". But as he realizes the cut is much worse than he thought, Mercutio curses both the Montagues and the Capulets before dying in Romeo's arms. Enraged, Romeo chases after a fleeing Tybalt and guns him down.
Captain Prince banishes Romeo from the city. Romeo goes into hiding with Father Lawrence, who treats Romeo's injuries and says that, after some time passes, he will help Romeo and Juliet return to the city and reconcile with their family and friends. The nurse tells Romeo that Juliet is waiting for him. When Romeo climbs over Juliet's balcony, she kisses him and they consummate their marriage. Fulgencio decides Juliet will marry Dave Paris, the governor's son.
The next morning, Romeo narrowly escapes as Juliet's mother tells her that the family has promised she will marry Paris. She refuses to marry, so her father threatens to disown her. Her mother and nurse insist it would be in her best interest to marry Paris. To get out of this, Juliet runs away from home and sees Father Lawrence, very angrily imploring him to help her and threatening to commit suicide. Father Lawrence proposes she fake her own death and be put in the Capulet vault to awaken 24 hours later. Romeo will be told of the plot, sneak into the vault, and once reunited the two can travel to Mantua. He gives her the potion which mimics death. After saying goodnight to her mother, Juliet drinks the potion and falls into a coma. She is found in the morning, declared dead, and placed in the vault. Balthasar, one of Romeo's cousins, learns that Juliet is dead and tells Romeo, who is not home when the messenger arrives to tell him of the plan.
Romeo returns to Verona, where he buys poison. As he goes to the church, Captain Prince finds out he is back, and tries to capture him, without success. Father Lawrence learns that Romeo has no idea Juliet is alive. Romeo enters the church where Juliet lies and bids her goodbye. She awakens just as Romeo takes the poison; the two thus see each other before he dies. After he dies, Juliet picks up Romeo's gun and shoots herself in the head, dying instantly. The two lovers are discovered in each other's arms. Prince condemns both families, whose feuding led to such tragedy, and coroners remove the two bodies
Cast
The House of Montague
Brian Dennehy as Ted Montague, Romeo's father
Christina Pickles as Caroline Montague, Romeo's mother
Leonardo DiCaprio as Romeo Montague
Dash Mihok as Benvolio Montague, Romeo's cousin
Jesse Bradford as Balthasar Montague, Romeo's cousin
Zak Orth as Gregory Montague, Romeo's cousin
Jamie Kennedy as Sampson Montague, Romeo's cousin
The House of Capulet
Paul Sorvino as Fulgencio Capulet, Juliet's father
Diane Venora as Gloria Capulet, Juliet's mother
Claire Danes as Juliet Capulet/Juliet Capulet-Montague
John Leguizamo as Tybalt Capulet, Juliet's cousin
Vincent Laresca as Abra Capulet, Juliet's cousin
Carlos Martín Manzo Otálora as Petruchio Capulet, Juliet's cousin
Miriam Margolyes as Nurse, Juliet's nanny
Others
Harold Perrineau as Mercutio, Romeo's best friend
Pete Postlethwaite as Father Lawrence, the priest who marries Romeo and Juliet
Paul Rudd as Dave Paris, the governor's son and Juliet's fiance
Vondie Curtis-Hall as Captain Prince, the chief of police
M. Emmet Walsh as Apothecary
Quindon Tarver as Choir Boy, the singer at Romeo and Juliet's wedding
Edwina Moore as the Anchorwoman, who assumes the role of the Chorus