The Sandman is an American comic book written by Neil Gaiman and published by DC Comics. Its artists include Sam Kieth, Mike Dringenberg, Jill Thompson, Shawn McManus, Marc Hempel, Bryan Talbot, and Michael Zulli, with lettering by Todd Klein and covers by Dave McKean.
The main character of The Sandman is Dream, also known as Morpheus and other names, who is one of the seven Endless. The other Endless are Destiny, Death, Desire, Despair, Delirium (formerly Delight), and Destruction (also known as 'The Prodigal'). The series is famous for Gaiman's trademark use of anthropomorphic personification of various metaphysical entities, while also blending mythology and history in its horror setting within the DC Universe. The Sandman is a story about stories and how Morpheus, the Lord of Dreams, is captured and subsequently learns that sometimes change is inevitable.
Various film and television versions of Sandman have been developed. In 2013, Warner Bros. announced that David S. Goyer would be producing a film adaptation of the comic book series starring Joseph Gordon-Levitt within its upcoming Vertigo film slate, but Gordon-Levitt dropped out in 2016. As of June 2019, an adaptation has been in development for Netflix. In 2020, a full-cast audio drama comprising the first three volumes of the series was released exclusively through Audible, narrated by Gaiman, dramatized and directed by Dirk Maggs and starring James McAvoy as Morpheus.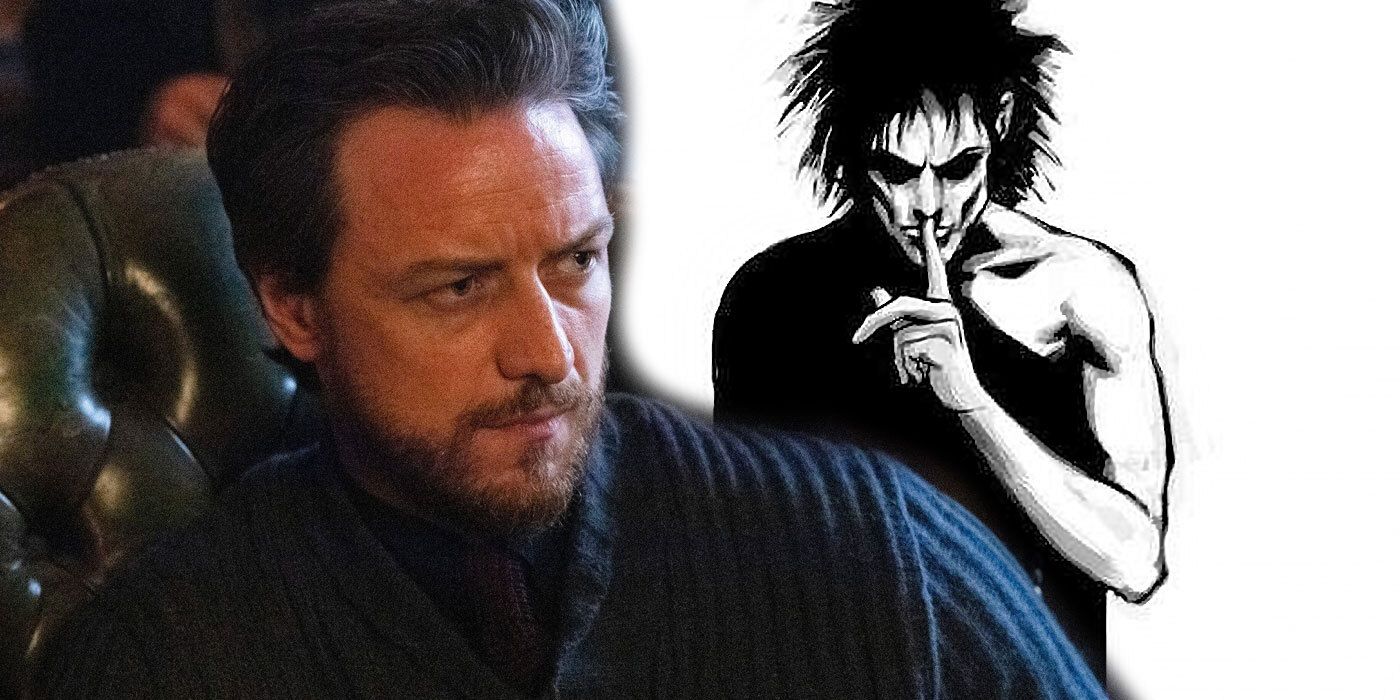 The Sandman library
A total of ten trade paperbacks contain the full run of the series and have all been kept in print. In 2010, Vertigo began releasing a new edition of Sandman books, featuring the new coloring from the Absolute Editions.
Preludes and Nocturnes collecting The Sandman #1–8, 1988–1989: Dream is imprisoned for decades by an occultist seeking immortality. Upon escaping, he must reclaim his objects of power while still in a weakened state, confronting an addict to his dream powder, the legions of Hell, and an all-powerful madman (Doctor Destiny) in the process. Guest starring several DC Comics characters including John Constantine, Mister Miracle, the Martian Manhunter, the Scarecrow, Etrigan the Demon, and the original Sandman. It features the introduction of Lucifer, with cameos by Batman and Green Lantern.
The Doll's House collecting The Sandman #9–16, 1989–1990: Morpheus tracks down rogue dreams that escaped the Dreaming during his absence. In the process, he must shatter the illusions of a family living in dreams, disband a convention of serial killers, and deal with a "dream vortex" that threatens the existence of the entire Dreaming. Features Hector Hall as the Bronze Age Sandman. Introduces the characters William Shakespeare and Hob Gadling.
Dream Country collecting The Sandman #17–20, 1990: This volume contains four independent stories. The imprisoned muse Calliope is forced to provide story ideas, a cat seeks to change the world with dreams, William Shakespeare puts on a play for an unearthly audience, and a shape-shifting immortal (obscure DC Comics character Element Girl) longs for death.
Season of Mists collecting The Sandman #21–28, 1990–1991: Dream travels to Hell to free a former lover, Nada, whom he condemned to torment thousands of years ago. There, Dream learns that Lucifer has abandoned his domain. When Lucifer gives Hell's key (and therefore, the ownership of Hell) to the Sandman, Morpheus himself becomes trapped in a tangled network of threats, promises, and lies, as gods and demons from various pantheons seek ownership of Hell. Wesley Dodds and Hawkman (Carter Hall) appear in one panel.
A Game of You collecting The Sandman #32–37, 1991–1992: Barbie, a New York divorcée (introduced in The Doll's House), travels to the magical realm that she once inhabited in her dreams, only to find that it is being threatened by the forces of the Cuckoo. This series introduces the character of Thessaly, who will play a key role in Morpheus' eventual fate.
Fables and Reflections collecting The Sandman #29–31, 38–40, 50; The Sandman Special #1; and Vertigo Preview No. 1, 1991–1993: A collection of short stories set throughout Morpheus' history, most of them originally published directly before or directly after the "Game of You" story arc. Four issues, dealing with kings and rulers, were originally published under the label Distant Mirrors, while three others, detailing the meetings of various characters, were published as the "Convergences" arc. Fables and Reflections includes The Sandman Special #1, originally published as a stand-alone issue, which assimilates the myth of Orpheus into the Sandman mythos, as well as a very short Sandman story from the Vertigo Preview promotional comic.
Brief Lives collecting The Sandman #41–49, 1992–1993: Dream's erratic younger sister Delirium convinces him to help her search for their missing brother, the former Endless Destruction, who left his place among the "family" three hundred years before. Their quest is marred by the death of all around them, and eventually Morpheus must turn to his son Orpheus to find the truth, and undo an ancient sin.[64]
Worlds' End collecting The Sandman #51–56, 1993: A "reality storm" strands travelers from across the cosmos at the "Worlds' End Inn". To pass the time, they exchange stories. Guest-starring Prez and Wildcat.
The Kindly Ones collecting The Sandman #57–69 and Vertigo Jam No. 1, 1993–1995: In the longest Sandman story, Morpheus becomes the prey of the Furies, avenging spirits who torment those who spill family blood.
The Wake collecting The Sandman #70–75, 1995–1996: The conclusion of the series, wrapping up the remaining loose ends in a three-issue "wake" sequence, followed by three self-contained stories. Features a guest appearance by Wesley Dodds, and cameos by Batman, the Martian Manhunter, Clark Kent, Darkseid, the Phantom Stranger, Doctor Occult, John Constantine, and the Black Spider.
The Sandman, written by Neil Gaiman and illustrated by J. H. Williams III, returned in October 2013 as a limited series. The six-part prequel, Overture, tells the previously untold story that led to Morpheus' capture by Roderick Burgess in the first issue of the monthly series.
30th Anniversary editions
In 2018 DC republished the previous ten trade paperbacks in a new 30th Anniversary edition , along with Endless Nights, now numbered as Volume 11, both prose and comic versions of The Dream Hunters as separate unnumbered volumes and Overture as Volume ∞.
Absolute editions
The DC Comics Absolute Edition series are large 8″ by 12″ prints of a considerably higher quality and price than the library edition, and include a leather-like cover and a slipcase. Many of the early stories have been extensively retouched and/or recolored with Gaiman's approval.
The Absolute Sandman, Vol. 1, collecting The Sandman #1–20. Extras include Gaiman's original series pitch, character designs charting the visual development of Dream, script and pencils for The Sandman #19 ("A Midsummer Night's Dream"), and Gaiman's prose summary of the first seven issues from The Sandman #8, which features story beats not in the original comics. Published November 2006.
The Absolute Sandman, Vol. 2, collecting The Sandman #21–39. Extras include the Desire story "The Flowers of Romance" from Vertigo: Winter's Edge #1, script and pencils for The Sandman #23 ("Season of Mists: Chapter Two"), humorous biographies of the contributors, a section on DC's official "Sandman Month," a prose story from the box of the first Sandman statue detailing the statue's (fictional) history, and a complete reproduction of A Gallery of Dreams (a one-shot of Sandman-inspired art). Published October 2007.
The Absolute Sandman, Vol. 3, collecting The Sandman #40–56, "Fear of Falling" from Vertigo Preview #1, and Sandman Special #1. Extras include the Desire story "How They Met Themselves" from Vertigo: Winter's Edge #3, script and thumbnails from The Sandman #50 ("Ramadan"), art galleries from The Sandman #50 and Sandman Special #1, a gallery of works inspired by the Endless, a section on Jill Thompson's "Little Endless" series, and a gallery of statues inspired by The Sandman #50. Published June 2008.
The Absolute Sandman, Vol. 4, collecting The Sandman #57–75 (including three "lost" pages from The Sandman #72, originally published in The Dreaming #8) and "The Castle" from Vertigo Jam #1. Extras include script and developmental art for The Sandman #57 ("The Kindly Ones: Part One") and #75 ("The Tempest"), a timeline of The Sandman's production from Gaiman's initial pitch to the publication of the last issue, and sections on the merchandise inspired by The Sandman. Published November 2008.
The Absolute Death, collecting The Sandman #8 and #20, Death: The High Cost of Living #1-3, Death: The Time of Your Life #1-3, "A Winter's Tale" from Vertigo: Winter's Edge #2, "The Wheel" from 9–11: The World's Finest Comic Book Writers & Artists Tell Stories to Remember, and "Death and Venice" from The Sandman: Endless Nights. Extras include the "Death Talks About Life" AIDS pamphlet, script and pencils for The Sandman #8 ("The Sound of Her Wings"), a complete reproduction of A Death Gallery (a one-shot of Death-inspired art), a section on the collectibles inspired by Death, and sketches by Chris Bachalo. Published November 2009.
The Absolute Sandman, Vol. 5, collecting "The Last Sandman Story" from Dust Covers: The Collected Sandman Covers, The Sandman: The Dream Hunters (both the prose version, written by Gaiman and illustrated by Yoshitaka Amano, and the four-issue comics adaptation by P. Craig Russell), The Sandman: Endless Nights, and Sandman Midnight Theatre #1. Extras include script, designs, and layouts for "The Heart of a Star" from Endless Nights, covers and sketches from the comics adaptation of The Dream Hunters, a gallery of Sandman-inspired posters, and a section on the figures and statues inspired by The Sandman. Published November 2011.
The Absolute Sandman: Overture, collecting The Sandman: Overture #1-6. Extras include the script for The Sandman: Overture #1 ("Chapter 1: A flower burns"), sections on Dave Stewart's coloring process, Todd Klein's lettering process, and Dave McKean's cover art process, interviews with the creative team, and art by J.H. Williams. Published July 2018.
James McAvoy Leads Sandman Audio Cast As Morpheus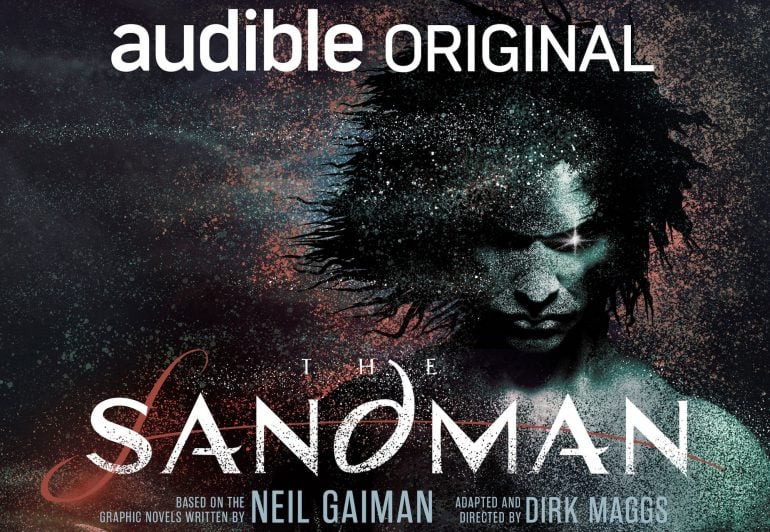 Cast
Neil Gaiman as The Narrator
James McAvoy as Morpheus

John MacMillan portrays the African Morpheus

Kat Dennings as Death
Taron Egerton as John Constantine
Riz Ahmed as The Corinthian
Samantha Morton as Urania Blackwell
Bebe Neuwirth as The Siamese Cat
Andy Serkis as Matthew
Michael Sheen as Lucifer Morningstar
Also starring
Justin Vivian Bond as Desire
Arthur Darvill as William Shakespeare
William Hope as Doctor Destiny
Mathew Horne as Hob Gadling
Reginald D. Hunter as J'onn J'onzz
Sue Johnston as Unity Kinkaid

Tracy Wiles portrays young Unity

Paterson Joseph as The Demon Choronzon
Josie Lawrence as Mad Hettie
Anton Lesser as Doctor John Hathaway
Joanna Lumley as Lady Johanna Constantine
Miriam Margolyes as Despair
Featuring
Tom Alexander as the Announcer and the Hippogriff
Stephen Critchlow as Roderick Burgess
Blake Ritson as Alex Burgess

Adam Thomas Wright portrays young Alex

Oris Herhuero as Ruthven Sykes
Karen Batke as Ethel Cripps and Goldie
Ray Porter as Wesley Dodds, Hector Hall, Fiddler's Green, and the Gryphon
Michael Roberts as Cain
Kerry Shale as Abel, Azazel, Brute, and Puck
Simon Vance as Lucien
Sandra Dickinson as the Maiden
Ellen Thomas as the Mother
Cathy Tyson as the Crone
Sandra-Mae Luykx as Rachel and Eve
Amaka Okafor as Nada
Shey Greyson as Rose Walker
Laurel Lefkow as Lyta Hall
Harry Myers as Glob, the Wyvern, and young Erasmus
Mack Keith Roach as Jed Walker
Laurence Bouvard as Barbie
Toby Longworth as Erasmus Fry and Auberon
Daniel Weyman as Richard Madoc
Samantha Béart as Calliope
Cliff Chapman as Felix Garrison and The Director
Felicity Duncan as Titania
Julia Winwood as Clarice and Dog Soup
Cast
Tom Sturridge as Dream: The king of dreams and the ruler of the Dreaming, also known as Morpheus.
Gwendoline Christie as Lucifer: The ruler of Hell. The series' incarnation of Lucifer is much closer to the character's original depiction in the comics than his depiction in the 2014 Lucifer television series. Neil Gaiman noted that it would be difficult to reconfigure the Lucier version, portrayed by Tom Ellis, so he would fit back into The Sandman.
Vivienne Acheampong as Lucienne: The librarian of the Dreaming. The character is a gender-reversed version of Lucien, who is the Dreaming's librarian in the comics.
Boyd Holbrook as the Corinthian: A nightmare who escaped the Dreaming.
Charles Dance as Roderick Burgess:A Charlatan occultist.
Asim Chaudhry as Abel: A resident of the Dreaming, based on the Biblical Abel.
Sanjeev Bhaskar as Cain: A resident of the Dreaming and Abel's brother, based on the Biblical Cain.
"I walk across the dreaming sands under the pale moon: through the dreams of countries and cities, past dreams of places long gone and times beyond recall." ― Dream
Dream is one of the seven Endless, who are powerful beings older than gods. He is both the personification, as well as the lord over all dreams and stories, and all that is not in reality (which, in turn, Dream may define by his existence). He has had many names such as Morpheus, Kai'ckul, Sandman, and Oneiros.
Morpheus usually appears as a tall, thin man with bone-white skin, black hair, and two distant stars looking out from the shadows where his eyes should be. Most often they are silver, blue, or white, but when he becomes angered, they have been known to turn red.
Morpheus' appearance ranges widely, depending on the entity looking upon him. He is described in Season of Mists as appearing to mortals as "rake-thin, with skin the color of falling snow" and that he "casts a human shadow when it occurs to him to do so". People generally perceive him as wearing a style of dress appropriate to their region and era. In the Dreaming, however, he is often seen wearing a grey tee-shirt and dark jeans. The people of "Tales in the Sand's" primordial African city see him as a starry-eyed African man.
Morpheus' speech is usually portrayed as white text in black, wavy-edged speech bubbles bordered in white. The text is capitalized normally (sentence case) in stark contrast to other characters' speech; generally in block caps text. He has a formal manner of speech.
He almost never laughs out loud – or even smiles – but when he laughs, it is a disquieting sound, almost a growl.
Powers and Abilities
Powers
Personification of Dreams: As one of the seven Endless, inconceivably powerful beings, Dream is both the lord and personification of all dreams and stories, and all that is not in reality (which, in turn, Dream may define by his existence). He possesses absolute control over sleep, dreams, nightmares, and even insomnia.

Immortality: As the personification of all dreams in the universe, Dream was both ageless and immortal. He will continue to exist so long as one sentient being is capable of dreaming. Being an Endless, Dream can only be hurt by means that he allows. Besides, if an Endless is destroyed, its personality and powers are instantly transmitted to another person, who must become the new embodiment of that aspect.
Cosmic Awareness: As guardian and ruler of the Dreaming, Morpheus has access to all stories ever told. Dream effectively knows almost everything, including how the Omniverse was created and the stories yet to be told.
Dimensional Travel: Dream can open portals to other dimensions at will. He can travel instantly to the Dreaming, and anywhere in the mortal realm that people dream. He can easily enter and transit most magical realms as well, such as Hell.
Dream Conjuring: He is capable of summoning dreams, stories, and ideas and send them into the minds of others. He was able to curse a man with "eternal waking", causing him to become trapped in an endless loop of awaking from a nightmare.
Reality Warping: Dream's power is directly connected to the Dreaming. Inside the Dreaming, he can effortlessly alter reality on a universal scale. He can create objects and entities to follow his every command. The Dreams landscape and weather can also change simply but his current mood, and he also controls all the dreams within it. His 70 year absence from the Dreaming had a caused the realm to decay. As Dream grew weak while he was imprisoned, the Dreaming did the same.
Dream Absorption: Dream literally obtains nutrition from dreams and food conjured from dreams.

Healing: Morpheus can heal wounds with the touch of his hand.
Illusion Casting: Dream can conjure illusions at will. His illusions are real enough to the point where they can be physically interacted with by other beings, as dreams and reality are far closer to one another than most realize. This also includes nightmares sent as a punishment.

Magic: Dream is a powerful magic-user; in the Dreaming his magic has Nigh-Omnipotent levels.
Shapeshifting: Morpheus could completely alter his physical appearance in order to appear to lesser beings in a guise that they could comprehend. He could also create clothing from "dream-space".
Photokinesis: Dream is capable of creating light at will.
Power Distribution: Dream was capable of imbuing some of his power into his equipment, including his Sand Pouch and his Dreamstone.
Telekinesis: Dream can manipulate the movement of objects through his own will. He was able to telekinetically unlock and open a door with the snap of his fingers.
Size Alteration
Superhuman Reflexes
Superhuman Stamina: Dream was able to go 70 years without food, and only became slightly weak.
Superhuman Strength: Dream is much stronger than any ordinary human. He was able to effortlessly hurl a demon guard a great distance, with one arm.
Abilities
Artistry: Supreme talent to make creative dreams (and nightmares).
Insight: Dream has a particular talent for introducing different ideas and new concepts into people's minds and lives (and also removes them).
Occultism
Weakness
Ancient Rules: Despite his great powers, Dream, like the rest of the Endless, is bound to a complex set of rules and customs that limit his abilities. One which requires her not to spill the blood of family or he is no longer protected as the personification of Dream from other Personifications. Another is that he cannot fall in love with a mortal or the mortal's downfall is assured.
Relatives
Night (mother)
Time (father)
Destiny (older brother)
Death (older sister)
Destruction (younger brother)
Desire (younger sibling)
Despair (younger sister)
Delirium (younger sister)
Daniel Hall (incarnation; successor)
Occupation
Lord of dreams
Portrayal(s)
James McAvoy (audio)
Lucifer Morningstar is a fallen angel and the previous ruler of Hell.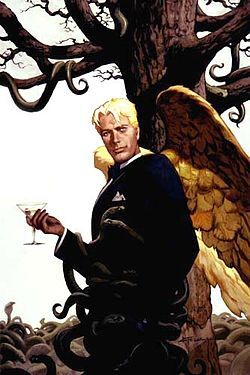 Once the most powerful and most beautiful of all angels in existence and one of two beings fictionally accredited with the creation of the DC Multiverse, Lucifer was sent by The Presence to rule over Hell after he rebelled.
After governing Hell for more than 10 billion years, he left to look for a way out of predestination, to escape Yahweh's Great Plan.
In the void outside all creations that is the Primal Monitor, Yahweh created two brothers infused with literal unlimited might, one is Michael Demiurgos, and the other is Samael, later called the Lucifer Morningstar. 
He was thought to be God's favorite, but when Lucifer rebelled, God cast him out of Heaven, tasking him to be the ruler of Hell and to punish the souls of deceased sinners for all eternity. Lucifer reluctantly ruled Hell for aeons, gaining an incredibly fearsome reputation. He became known by many names, including the Devil, Satan, Old Scratch, Abaddon, Beelzebub, and Belial.
Lucifer refuses emphatically to lie (which he considers crass and undignified), insists on paying back debts, and keeps his word – though this must not be confused with virtue.
Powers and Abilities
Powers
Nigh-Omnipotence: Unlike regular Fallen Angels, possibly due to being an Archangel, Lucifer retained his holy and nigh omnipotent powers, instead of them being faded away completely. Lucifer is able to manipulate any external force for any effect he desires. He cannot, however, create something out of nothing; for this he needs the Demiurgic force of his brother Michael, and later his niece Elaine. Together, Michael and Lucifer are capable of creating anything from living beings to entire multiverses. Lucifer is even stronger than the Endless and the only known beings able to rival and surpass his power are Michael and the Presence.

Omniscience
Omnipresence
Cosmic Awareness
Dimensional Travel: Lucifer is capable of traveling throughout realms at will. By projecting flames from his hands, Lucifer is able to create portals to hell. He is even capable of opening doorways to the Void, a space outside of creation. He was also able to splinter a dimensional gateway to a world of his own creation across the multiverse, creating millions of gateways.
Energy Projection
Enhanced Intellect
Flight: Through the use of his large, angelic wings, Lucifer is able to fly.
Immortality: Lucifer will never grow physically old and can live forever. He is billions of years old. Only the Presence is said to have the ability to destroy him.
Interstellar Travel: Lucifer can travel throughout the reaches of space and time where no human body could survive
Invulnerability
Magic: Lucifer was able to cast a spell on a door, so that if a person opened it, it would unmake the rest of creation.
Molecular Reconstruction: Lucifer was capable of manipulating residual energy of the cosmos to create suns.
Necromancy: As a psychopomp, Lucifer can choose the soul's destination if he kills a person or supernatural being (as a demon). He killed Musubi by her own will; she allowed it to free herself from Izanami's service.
Pyrokinesis: Lucifer is able to call forth the fire of the various suns he has birthed.  He is able to control it on small scales such as shaping a flame to his will, or on a larger scale such as when he is creating suns.

Thermal-Blast: Lucifer can generate powerful blasts of flames at will.
Disintegration: Lucifer can incinerate beings with his flames.

Reality Alteration: Lucifer is capable of shaping reality at will. After an explosion of Michael's Demiurgic power exploded in the Void, Lucifer was able to shape this energy into a universe of his own design.
Size Alteration
Superhuman Stamina: Lucifer is able to function without rest or sleep. He was capable of walking for nine days straight without stopping and showed no signs of strain.
Superhuman Strength: Lucifer possesses vast superhuman strength. He was strong enough to throw a person into orbit.
Superhuman Speed: Lucifer has been said to be able to circle the planet before his image leaves your eye.
Time Acceleration: Lucifer sped up the flow of time by a vast amount when creating a universe, in order to make the process happen faster.
Telekinesis: Lucifer was capable of telekinetically flinging knives at goons, and slicing them into chunks.
Wings: As a fallen angel, Lucifer possesses large angelic wings.
Abilities
Genius Level Intellect
Indomitable Will
Occultism
Swordsmanship
Weakness
His power seems to have no limit, but he actually does have one real weakness; He can not create something out of nothing on a multiversal scale
Relatives
The Presence (father/creator)
Michael Demiurgos (twin brother)
Remiel (younger brother)
Duma (younger brother)
Azazel (younger brother)
Angels (siblings/fellow creations)
Portrayal(s)
Michael Sheen (audio)
Occupation
Ruler of Hell (formerly)
Member of Hell triumvirate (formerly)
Roderick Burgess
 is an English man infamous for the capture of Dream.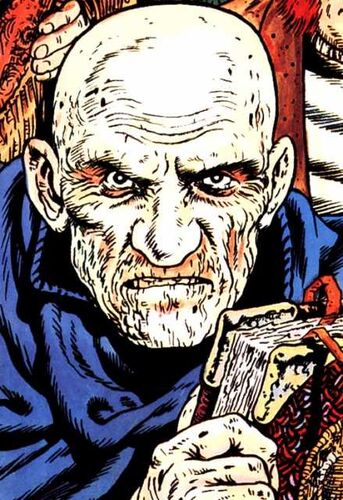 Born Morris Burgess Brocklesby, in 1872 in Lancashire, England, he was raised in a wealthy industrial family. As Roderick Burgess, he was the Lord Magus of the Order of the Ancient Mysteries, which he founded as a young man. In 1904 he purchased the Sussex manor, "Fawney Rig", adding Gothic additions to the house which served to prepare it for becoming the main base of his Order. He was determined that his mystical society and its accomplishments would prove him the greatest magician of his day. Ruthven Sykes emerged as his second in command.
At some point a scandal broke out in London which involved the Order of Ancient Mysteries. The police had raided a house in Belgravia which involved a naked women and several socially prominent members of the Order. The scandal was reported widely throughout the newspapers, which led to several other scandals. Unperturbed by these scandals, Burgess decided to retreat back to Fawney Rigg.
In 1916, he attempted to capture Death, but instead entraps Dream (Morpheus) as he is returning, after a significant event, far from Earth. The event and the long journey back had weakened him considerably, and he was returning in a vulnerable condition. It was only because of this vulnerability that the spell cast by Burgess was able to capture him, it was a fluke that he was able to succeed in capturing one of the Endless at all.
He takes Morpheus' helmet, his bag of sand, his ruby, and his clothing, then seals him in a glass bubble behind a magic circle in the basement. Throughout the rest of his life, Burgess tried to bargain with Dream for immortality in exchange for release. He never succeeded in making Dream say even a single word. Meanwhile, the imprisonment of Dream causes the sleepy sickness throughout the waking world and initiates the unraveling of the Dreaming.
Still imprisoned, Dream watched Burgess fall apart, bitter and angry over his mortality. In 1947, he died after a heart attack at 83 years of age. His son, Alex Burgess, succeeded his father, inheriting the estate, the notorious magical order, and the imprisoned Dream.
Occupation
Lord Magus
Relatives
Alex Burgess (son)
Ethel Cripps (lover)
John Dee (son)
Portrayal(s)
Stephen Critchlow (audio)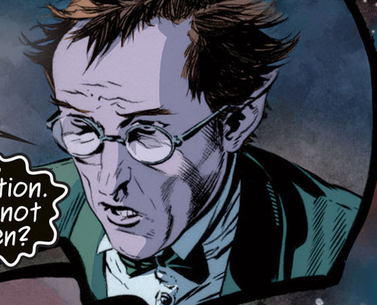 Lucien is the head librarian in the Dreaming, and resides within Dream's Castle where his vast library is. He was originally the first Raven companion to Dream of the Endless.
Lucien was altered or evolved into a humanoid form, taller even than Dream, and with pointed ears. It is entirely possible he might have been a mortal once, just as his successor as Dream's Raven, Matthew, once was.
Lucien serves on Dream's palace staff as the chief librarian, overseeing a collection of every book that has ever been imagined–even if that book was never published or even written.
When Dream was captured by the magician Roderick Burgess and his Order of Ancient Mysteries in the first decades of the 20th century, Lucien was the only member of Dream's staff who did not abandon his post and tried to maintain the integrity of the Dreaming as much as was possible in its maker's absence. When Dream returned, it was Lucien who alone greeted him at the decayed and crumbling palace with the comment, "Breaks your heart, my Lord, doesn't it?" 
He caught Dream upon the unraveling of his realm, what had vanished – including the entire library; and who – including the Fashion Thing, who had been missing for a year, and Brute and Glob, who had vanished two decades past. He empathized with Dream over the diminishing of his realm, "It hurts me too, Lord"
When Dream returned to his station, he had Lucien conduct a complete census of the Dreaming, including the various nightmare entities residing within the House of Secrets and the House of Mystery. Soon after, Dream gave Lucien a promotion and he became one of the highest ranking authority figures in the Dreaming.
As a result of Lucien's loyalty and tenacity, Dream increasingly relied on his counsel, and Lucien's responsibilities expanded accordingly. He is Morpheus's most trusted servant. When Morpheus leaves the Dreaming, he sometimes gives Lucien authority to oversee matters while he is gone.Lucien is an extremely gentle person who almost certainly abhors violence, but threaten his library and it turns out that he's much tougher and more capable than he lets on.
Powers
Decelerated Aging
Magic: While capable of performing magic rituals, he is slow and clumsy in doing so.
Portrayal(s)
Simon Vance (audio)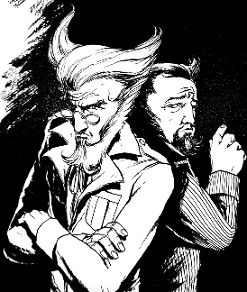 Cain and Abel are dreams that embody the characters in the Biblical story of the same name: the first murderer and the first victim – and so Cain is constantly killing his brother Abel, who never stays dead.
Cain frequently kills Abel in a macabre form of obsessive-compulsive disorder; whereupon Abel revives, with the frequent hope for a more harmonious relationship based upon the brotherly love he craves: "…two brothers and they love each other very much and they were always nice to each other. And the elder brother would never hurt the younger brother. Never."
While Cain is easily infuriated by Abel, dialogue between the two suggests that Cain does genuinely care about his brother, but is unable to stop killing him. After Abel was murdered by the Furies who were laying waste to the Dreaming, in The Wake, Cain pleads to the new Dream to revive his brother, which he does.