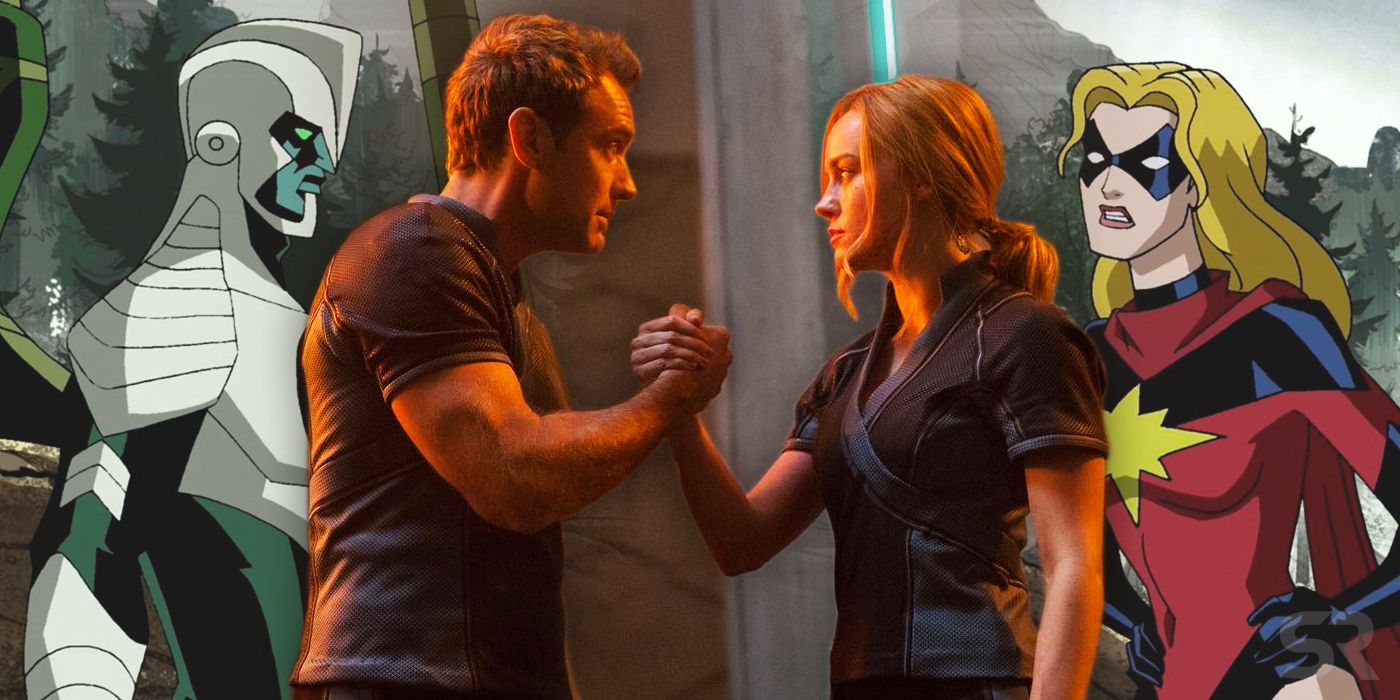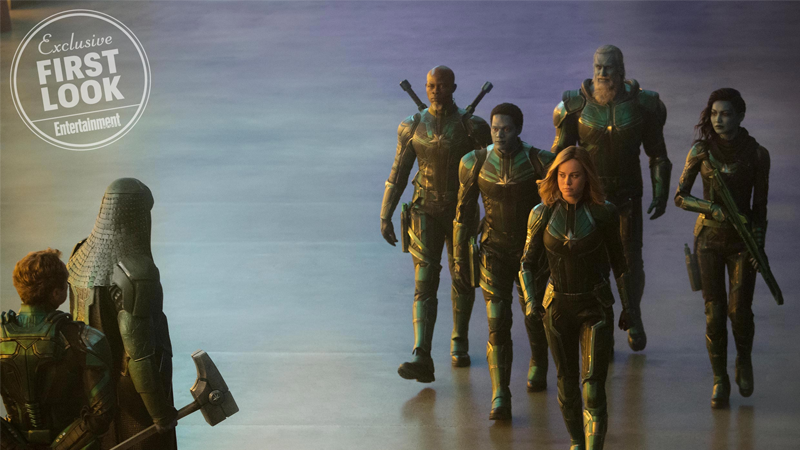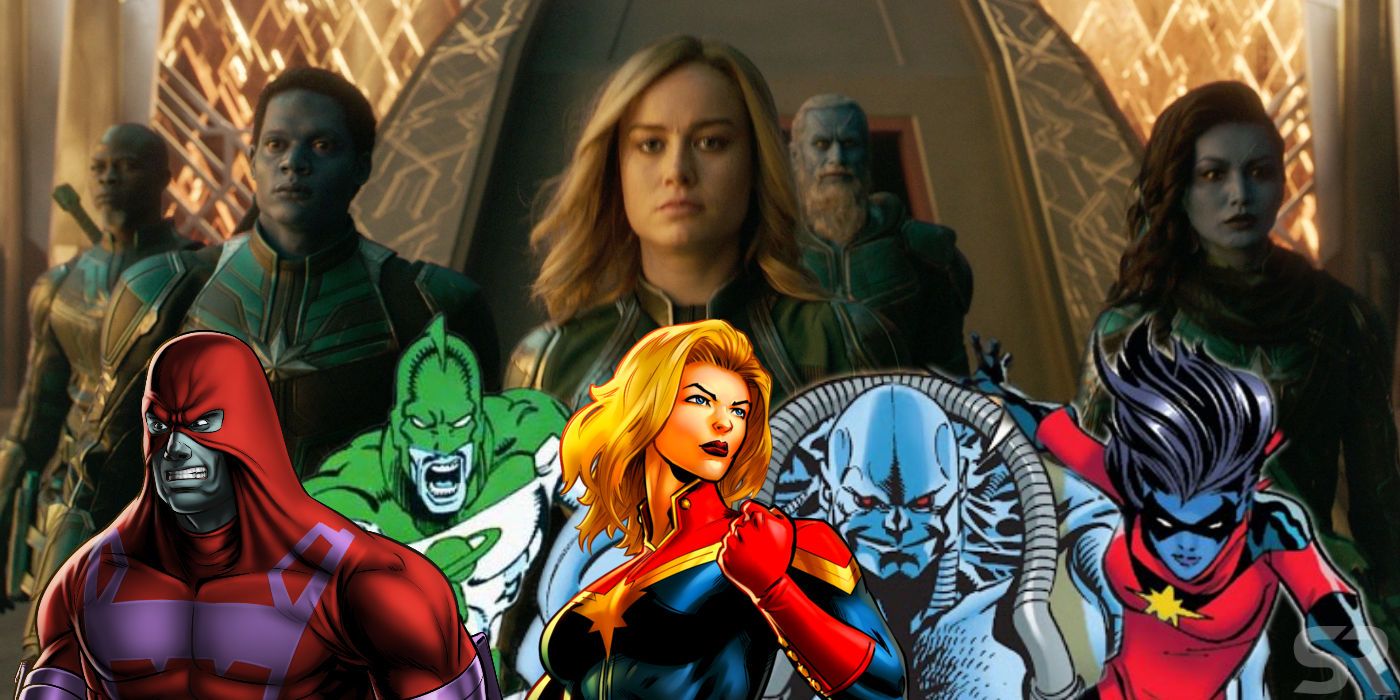 Set in 1995, Captain Marvel follows Carol Danvers, a former U.S. Air Force fighter pilot, as she turns into one of the galaxy's mightiest heroes and joins Starforce, an elite Kree military team, before returning home with questions about her past and identity when Earth is caught in the center of a galactic conflict between two alien worlds.
Carol Danvers initially possessed superhuman strength, endurance, stamina, physical durability, a limited precognitive "seventh sense" and a perfectly amalgamated human/Kree physiology that rendered her resistant to most toxins and poisons. As Binary, the character could tap the energy of a "white hole", allowing full control and manipulation of stellar energies, and therefore control over heat, the electromagnetic spectrum, and gravity. Light speed travel and the ability to survive in the vacuum of space were also possible. She originally only had the power of flight thanks to a contraption under her suit.
Although the link to the white hole was eventually severed, Danvers retains her Binary powers on a smaller scale, enabling her to both absorb energy and project it in photonic form. She can also still survive in space. While she lacks a constant source of energy to maintain the abilities at their previous cosmic level, she can temporarily assume her Binary form if empowered with a high enough infusion of energy.
Danvers possesses superhuman strength and durability, can fly at roughly six times the speed of sound, retains her "seventh sense," and can discharge explosive blasts of radiant energy, which she fires from her fingertips. She also demonstrates the ability to absorb other forms of energy, such as electricity, to further magnify her strength and energy projection, up to the force of an exploding nuclear weapon. When sufficiently augmented, she can withstand the pressure from a ninety-two-ton weight, and strike with a similar level of force, although Hank Pym theorized that this likely was not her limit. Danvers cannot absorb magical energy without consequence, though she aided Dr. Stephen Strange in the defeat of the mystic menace, Sir Warren Traveler
Cast
Brie Larson as Carol Danvers / Captain Marvel:
An ex-U.S. Air Force fighter pilot and member of an elite Kree military unit called Starforce whose DNA was fused with that of a Kree during an accident, imbuing her with superhuman strength, energy projection, and flight.
 Mckenna Grace portrays a young Carol Danvers.
Samuel L. Jackson as Nick Fury:
The future director of S.H.I.E.L.D., who at this time is a low level bureaucrat.
Ben Mendelsohn as Talos:
The shape-shifting leader of the Skrull invasion of Earth, who is working undercover within S.H.I.E.L.D. as Fury's boss.
Djimon Hounsou as Korath:
A Kree mercenary and second-in-command of Starforce.
Lee Pace as Ronan the Accuser:
A high-ranking Kree official who is fanatical about their culture and practices.
Lashana Lynch as Maria Rambeau:
One of Danvers' oldest friends and a fellow Air Force pilot who goes by the call sign "Photon". She is a single mother to daughter Monica. 
Gemma Chan as Minn-Erva:
A Kree sniper and member of Starforce.
Annette Bening as a Kree scientist who rescued Danvers and made her part Kree.
Clark Gregg as Phil Coulson:
A rookie agent of S.H.I.E.L.D. who works closely with Fury.
Jude Law as the commander of Starforce and Danvers' mentor, who trains her to use her new powers.
After the Kree's first encounter with humans,Captain Mar-Vell is sent to spy on Earth and decide if it is a threat to the Kree empire.He adopts the identity of a recently deceased scientist named Walter Lawson, but occasionally dons his Kree military uniform to protect the people he's observing. The first time he does this, people hear him incorrectly pronounce his name as "Captain Marvel". His job is made difficult by his jealous commanding officer, Colonel Yon-Rogg, his growing affection for humanity, and his fake identity's criminal past.
After aiding humanity several times, Mar-Vell is found guilty of treason against the Kree Empire and sentenced to death by firing squad. Mar-Vell escapes in a stolen rocket, but becomes lost in space. After drifting for 112 days, he is weak and on the verge of madness. He is manipulated by Ronan the Accuser and Kree Minister Zarek into helping them overthrow the Supreme Intelligence. To better help them, Mar-Vell is given a new costume and enhanced abilities. After the conspiracy is foiled, Mar-Vell tries to return to Earth. On the way, he is hit by a blast of radiation that traps him in the Negative Zone.
The Supreme Intelligence enables Mar-Vell to telepathically contact Rick Jones, which he uses to lead Jones to a set of "nega-bands" at an abandoned Kree base. When Jones puts on the bands and strikes them together, he trades places with Mar-Vell and is encased in a protective aura in the Negative Zone. The pair discovers they are able to maintain telepathic contact. Using this method, Mar-Vell can remain in the positive universe for a period of three hours
Upon his arrival on Earth, Mar-Vell possessed no superpowers apart from being stronger and more durable than most humans due to his advanced Kree physiology; the Kree have evolved with higher physical-strength levels than humans to combat the heavier gravitations of their home planets. As a soldier, the character is equipped with a device called a "universal beam" (or "uni-beam"), at first a handheld pistol but later converted into a wrist-mounted device) that is capable of projecting energy; emitting beams of pure blackness and controlling magnetism.
When manipulated by "Zo" (actually Zarek, the Kree Imperial Minister), Mar-Vell had been greatly enhanced, having his physical abilities augmented to the point of crushing the hardest substance known to the Kree, gaining the ability to teleport to anywhere in the universe, fly under his own power at faster-than-light speeds and traverse vast interstellar and intergalactic distances, as well as the ability to mentally project illusions.Most of these abilities were lost when Mar-Vell gained the Nega-Bands, which convert Mar-Vell's psionic energy into greater strength, durability, speed, flight and enable him to exist unprotected in deep outer space without having to breathe.
Following the photon ray treatments, Mar-Vell was able to absorb solar energy to further increase his strength. After his encounter with Eon he began to use his solar energy to fly, leaving a sparkling trail in his wake.
Once he is named the "Protector of the Universe" by Eon, Mar-Vell gains "cosmic awareness", which (among other things) allows him to detect threats and perceive changes in the universe as long as they are important to him for some reason.This awareness can also be used internally, which alerted him to his terminal cancer even before he went to have it medically confirmed.
Mar-Vell's Kree military training gives him mastery of all forms of unarmed combat and extensive knowledge of the technology of the Kree Empire.