Jay Asher was born in Arcadia, California on September 30, 1975. He grew up with a family that encouraged him to pursue all of his interests, from playing the guitar to his writing. He attended Cuesta Community College right after graduating from San Luis Obispo High School. It was here where he wrote his first two children's books for a class called Children's Literature Appreciation. After high school, he decided he wanted to become an elementary school teacher. He then transferred to California Polytechnic State University in San Luis Obispo where he left his senior year in order to pursue his career as a serious writer. He married Joan Marie on September 7, 2002. Throughout his life he worked in various establishments, including working as a salesman in a shoe store and in libraries and bookstores. Many of his work experiences influenced some aspect of his writing.
On December 27, 2016, the 10th Anniversary Edition of Thirteen Reasons Why was released. In this edition, the book's original ending is included. The anniversary edition also includes a new introduction from Asher, an essay from Asher, pages from the notebook that Asher used while writing Thirteen Reasons Why, reader reactions and a reading guide
Thirteen Reasons Why is a 2007 young adult novel written by Jay Asher. The book was published by RazorBill, a young adult imprint of Penguin Books. The paperback edition hit #1 on the New York Times best-seller list in July 2011. The book is the basis of the television series 13 Reasons Why, released through Netflix on March 31, 2017.
Clay Jensen, a shy high school student, returns home from school one day to find that he has received a mysterious package in the mail. It contains seven double-sided cassette tapes used by Hannah Baker, a classmate who has recently committed suicide. Each tape details a reason that she killed herself. The tapes were sent to various other people before arriving at Clay's door.The first person to receive the tapes was Justin. They kissed once after she developed a crush on him. However, Justin told his friends that they did more than just kiss, which earned Hannah the reputation of a slut at school. The second person to receive them was Alex. Alex violated their friendship when he published a "hot or not" list comparing the girls in their class. He awarded Hannah the title of Best Ass, which only escalated her reputation as a slut. He also awarded his ex-girlfriend Jessica the title of Worst Ass, in revenge for her not having sex with him. The third person was Jessica. After being compared to Hannah on the "hot or not" list, Jessica slapped Hannah and ended their friendship. The slap left a scar on Hannah's cheek…..

Main
Dylan Minnette as Clay Jensen
Katherine Langford as Hannah Baker
Christian Navarro as Tony Padilla
Alisha Boe as Jessica Davis
Brandon Flynn as Justin Foley
Justin Prentice as Bryce Walker
Miles Heizer as Alex Standall
Ross Butler as Zach Dempsey
Devin Druid as Tyler Down
Amy Hargreaves as Lainie Jensen
Derek Luke as Kevin Porter
Kate Walsh as Olivia Baker
Hannah Baker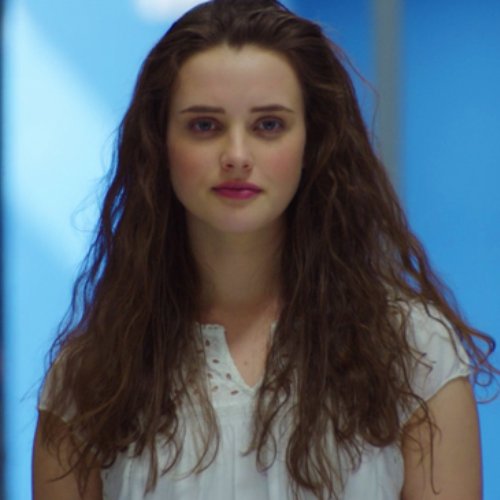 is a fictional character created by American author Jay Asher. She is the subject of his 2007 mystery novel Thirteen Reasons Why, and Netflix' adaptation of the book, 13 Reasons Why. Hannah is introduced as a sophomore at the fictional Liberty High School, characterized by her struggle adjusting to life in an unsympathetic school environment. She is played by Katherine Langford on the television series.On the final tape Hannah recalls the day of her suicide. She decides to give life "one more try", and visits Mr. Porter, the school counsellor, and asks for his help. She tells him about the rape, but when she refuses to disclose her rapist's identity, he tells her that the only option is to "move on" with life. This conversation is related on Hannah's final recorded tape. She then gives her uniform to Clay at the theatre before going to give the tapes to Tony. Hannah return home, fills her bathtub and uses the razors she stole from her father's shop to slit her wrists. Hannah dies of blood loss and is found by her mother and father who attempt to save her by calling 911; but they are too late, Hannah is already dead.
Rape & Assault or Violence
If you are in immediate danger, call 911.
Rape and Incest National Network (RAINN) Crisis Hotline: 800-656-4673
In addition to its hotline, RAINN works with local rape crisis centers nationwide, providing resources, articles, programs, and events.
National Teen Dating Helpline at 1-866-331-9474 or visit www.loveisrespect.org For teens who have been abused.
National Sexual Assault Hotline at 1-800-656-4673 or visit www.rainn.org For anyone who has been raped or experienced sexual violence.
Suicide
National Suicide Prevention Lifeline: 800-273-TALK (8255)
This is a 24-hour suicide prevention hotline that is free and available to anyone who is in emotional distress or crisis.
Hopeline: 800-SUICIDE (1-800-784-2433)
National Suicide Hotlines: 800-SUICIDE (784 2433)
Teen Hotline Covenant House NineLine: 800-999-9999
SOS Teen Hotline: 800-949-0057
Grief Recovery Helpline: 800-445-4808